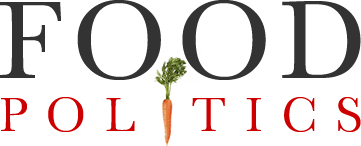 by Marion Nestle
More on toxic metals in baby foods: FDA on the job!
Early in February I wrote about heavy metal toxins in baby foods.  A report, Baby Foods Are Tainted with Dangerous Levels of Arsenic, Lead, Cadmium, and Mercury, revealed:
Arsenic, led, cadmium, and mercury are present in commercial baby foods at levels much higher than considered safe.
Their sources: foods raised on contaminated soil and water, and vitamin/mineral pre-mixes.
Baby food companies set their own safety standards for toxic metals.
The FDA knows baby foods have high levels of toxic metals but isn't doing anything about it.
Some baby food companies refused to share data on this topic.
Politico has been following this story.  It reports:
In response to the "Tainted" report, the FDA now says it will set standards.
The FDA wrote baby food manufacturers to shape up.  The FDA, it says,
 is taking this opportunity to remind all baby and toddler food manufacturers and processors covered by the preventive control provisions of the rule Current Good Manufacturing Practice, Hazard Analysis, and Risk-Based Preventive Controls for Human Food…of your responsibility under the rulemaking to consider chemical hazards that may be present in foods when conducting your hazard analysis….FDA takes exposure to toxic elements in the food supply extremely seriously, especially when it comes to protecting the health and safety of the youngest and most vulnerable in the population.
And the FDA issued a statement to the food industry. 
Toxic elements are in the environment, and therefore in the food supply. The levels of arsenic, lead, mercury, and cadmium in certain foods depends on many factors, including: growing conditions; manufacturing and agricultural processes; past or current environmental contamination; and the genetic capacity of food crops to take up elements. We share the public's concerns for the health of America's children, and want to reassure parents and caregivers that at the levels we have found through our testing, children are not at an immediate health risk from exposure to toxic elements in foods. The FDA routinely monitors levels of toxic elements in food, and if we find that they pose a health risk, the FDA takes steps to remove those foods from the market.

Research has shown that reducing exposure to toxic elements is important to minimizing any potential long-term effects on the developing brains of infants and children. As such, this issue is among FDA's highest priorities and we are actively working to make progress on identifying and implementing impactful solutions to make foods commonly consumed by infants and young children safer.
In the meantime, here's what Beech Nut says on its website.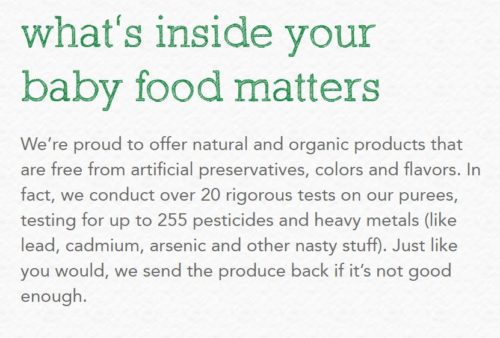 Toxic heavy metals are not good for babies' health.  Baby food companies need to do much better in getting rid of these things if they want anyone to keep buying their products.
What to do in the meantime?  Feed kids small amounts of as wide a variety of foods as possible.  That's good advice anyway.