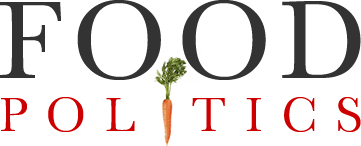 by Marion Nestle
Uh oh. Baby foods contain toxic metals—arsenic, lead, cadmium, mercury
The big news in food politics last week: revelations about toxic metals in baby foods.
This is not a new topic, as I've discussed previously with respect to arsenic in rice cereal.  Babies should be eating the healthy foods parents eat, just mashed or cut to size so they don't choke.  Commercial baby food is a convenience for sure, but not at the price of babies' health.
What's new are these revelations:
Arsenic, led, cadmium, and mercury are present in commercial baby foods at levels much higher than considered safe.
Their sources: foods raised on contaminated soil and water, and vitamin/mineral pre-mixes.
Baby food companies set their own safety standards for toxic metals.
The FDA knows baby foods have high levels of toxic metals but isn't doing anything about it.
Some baby food companies refused to share data on this topic.
This news comes from, of all places, the House of Representatives Oversight and Reform Committee in a report titled Baby Foods Are Tainted with Dangerous Levels of Arsenic, Lead, Cadmium, and Mercury
The Food and Drug Administration has set the maximum allowable levels in bottled water at 10 ppb inorganic arsenic, 5 ppb lead, and 5 ppb cadmium, and the Environmental Protection Agency has capped the allowable level of mercury in drinking water at 2 ppb. The test results of baby foods and their ingredients eclipse those levels: including results up to 91 times the arsenic level, up to 177 times the lead level, up to 69 times the cadmium level, and up to 5 times the mercury level.
Furthermore,
The Subcommittee has grave concerns about baby food products manufactured by Walmart (Parent's Choice), Sprout Organic Foods, and Campbell (Plum Organics). These companies refused to cooperate with the Subcommittee's investigation.
The Subcommittee complains:
Contaminated baby foods do not carry warning labels
Manufacturers do not have to test for heavy metals.
The FDA has only one standard for heavy metals in baby food—a 100 ppb inorganic arsenic standard for infant rice cereal.  Even this is too high.
The Subcommittee recommends:
Mandatory testing of baby foods for heavy metals
Mandatory labeling of toxic heavy metals
Voluntary phase-out of toxic ingredients (rice, for example, is high in arsenic)
Mandatory FDA standards for maximum levels of toxic metals in baby foods
Parental vigilance: Avoid commercial baby foods containing toxic heavy metals.
Consumer Reports, which has been complaining about this problem for years (see CR's 2019 testing of fruit juices and CR's 2014 tests) , explains:
Heavy metals all are part of the earth's crust, so they are naturally found in the environment. But most of the heavy metals in food come from soil or water that has been contaminated through either farming and manufacturing practices (such as pesticide application, mining, and smelting) or pollution (such as the use of leaded gasoline).
Its recommendations for parents and caretakers:
Ease up on fruit juice
Consider making your own
Minimize baby food snacks
Vary the foods you feed your child
Its recommendations for the FDA:
Establish aggressive targets
Create and enforce benchmarks
Finalize existing proposed guidelines
Comment: This is a scandal and an emergency.  Parents should be warned off  baby foods that test high in any of these heavy metals.  Now.
Press accounts:
Update, February 16: the FDA's response to the congressional report