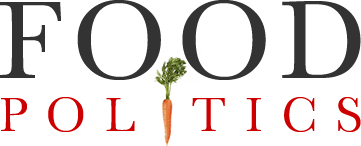 by Marion Nestle
New York City's terrific food initiatives
New York City is taking big steps to improve its food system.   Two reports are worth noting, one from the Mayor's office and one from the Health Department.
I.  Mayor Bill de Blasio and Kate MacKenzie, Director of the Mayor's Office of Food Policy (MOFP) have released Food Forward NYC: A 10-Year Food Policy Plan.
Here's how they introduce this impressive report:
Food Forward NYC is the City's first ever 10-year food policy plan, laying out an comprehensive policy framework to reach a more equitable, sustainable, and healthy food system by 2031.

Food Forward NYC emphasizes the importance of equity and choice – enabling a food system where everyone should be able to access the food they want wherever they may want it. To enable this choice, we need to support both our food workers and our food businesses. To strengthen the sustainability and resiliency of our food system, we need to rethink our food infrastructure and deepen our connections with the region.

Food Forward NYC is organized around five overarching goals:

All New Yorkers have multiple ways to access healthy, affordable, and culturally appropriate food.
New York City's food economy drives economic opportunity and provides good jobs.
The supply chains that feed New York City are modern, efficient, and resilient.
New York City's food is produced, distributed, and disposed of sustainably.
Support the systems and knowledge to implement the 10-year food policy plan.
The full report is here.  It was prepared in response to Local Law 40 of 2020 and recommendations from the New York City Council's 2019 report, Growing Food Equity in New York City.  
New York City is a complicated place and it's wonderful to have all this information put together in such a coherent way.  Let's hope everyone gets behind this and puts the recommendations into action.
II.  The Bureau of Chronic Disease Prevention at the NYC Health Department has an update on its  National Salt and Sugar Reduction Initiative (NSSRI).
In October 2018, the Bureau announced draft sugar reduction targets.  Now they have updated them and added targets for salt reduction, as well.  As I was informed in an e-mail,
The NSSRI is a partnership of over 100 local city and state health departments, associations, and health organizations, convened by the NYC Department of Health. We have set voluntary sugar reduction targets for 15 categories of food and beverages. The targets represent a 10% reduction in sugar content of products by 2023, and a 20% reduction by 2026 for food with a 40% reduction for beverages.

The current public health landscape demonstrates that diet remains critical, even during a public health emergency like COVID-19. Diet-related health conditions such as diabetes and heart disease, which can increase the risk of severe illness from COVID-19, are important to address right now.
Here's what one of the sugar reduction targets looks like:
The objective of NSSRI is this:
To promote gradual, achievable and meaningful reductions in sugar content in packaged foods and beverages. This is because intake of added sugars is associated with increased risk of excess weight, type 2 diabetes, hypertension, stroke, heart disease and cavities.
The targets are indeed gradual; the hope it that they will be met by 2026.
The targets are, of course, voluntary.  The best NSSRI can do is to encourage companies to comply and hold them accountable.
It's a start.