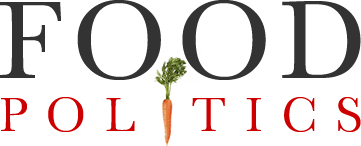 by Marion Nestle
Weekend reading: More public funding for agricultural research
The press release says it all:  "New Report Highlights How Stagnant U.S. Public Funding for Agricultural Research Threatens Food Systems."
Stagnant public funding for agricultural research is threatening the future vitality of U.S. food systems – posing risks to farmer productivity and profitability, the steady supply of affordable food for consumers, and ultimately global food security, according to a new report.

The report, jointly commissioned by Farm Journal Foundation and the American Farm Bureau Federation and authored by the IHS Markit Agribusiness Consulting Group, highlights the vital importance of public funding for agricultural research and development (R&D).

New innovations are crucial so that farmers can increase their productivity and meet rising global demand for food, even as climate change intensifies. The world population is expected to reach 10 billion by 2050, and food production will need to increase by 60%-70% to meet rising demand. While private-sector funding for agricultural R&D has been increasing, U.S. public spending has been flat for the past decade.
Here's the big picture.
Here's what's happening with USDA research funding—flat.
And here's what's happening with overall agricultural research.  Public funding is flat.  Industry funding is rising rapidly. 
Why is this a problem?  Because industry funds research aimed at developing and marketing profit-making products
This leaves research aimed at public health to be supported by the public.  Research is needed to
Increase productivity
Improve crop protection
Promote animal health and welfare
Prevent animal diseases
Protect against pandemics
Reduce effects of climate change
Industry won't fund these research areas if there's no profit in them.
That's why more public funds need to go to agricultural research.
Here's a one page summary.
Here's the full report.