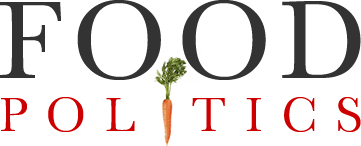 by Marion Nestle
Weekend reading (and thinking): "framing" food messages
The Rockefeller Foundation has produced what I view as an incredibly important guide to describing—"framing"—food system issues in ways that will encourage support for transforming the U.S. food system.
For effective advocacy, issues have to be "framed" in a way that the public can understand and respond to.
"Framing" is a concept made famous by George Lakoff.  It refers to the way political messages are designed to resonate with voters.  But it also refers to how public health messages can be designed to be more effective in encouraging people to act in the interests of their own health (wear masks, for example).
For food system change, the Rockefeller Foundation issued an action guide:  Reset the Table: Messaging Guide,
One of the consistent needs expressed by those seeking to transform the food system is a shared narrative to motivate and sustain the needed changes in the system. This narrative and messaging guide focuses on the long-term food system transformation while responding to the evolving circumstances presented by the pandemic, economic downturn, and racial justice reckoning being experienced in the United States.
Its guide is part of a longer report giving the research basis behind the messages: Reset the Table: Meeting the Moment to Transform the U.S. Food System.
Here is an example of how this kind of research-based framing works:
And here is an example of the messaging in action:
These are great suggestions for ways to talk about food issues.
Required reading!