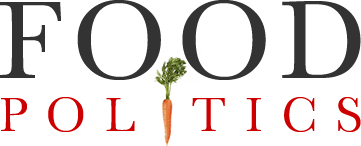 by Marion Nestle
Weekend advocacy: The People vs. Big Soda
I've just received a copy of Larry Tramutola's The People VS Big Soda: Strategies for Winning Soda Tax Elections.
Larry was involved in the successful Berkeley soda tax initiative, and this is his account of how they won an election wtih an astonishing plurality of 76%.  I consider this initiative to be a model of how to do food advocacy, and it's great to have this practical guide to the details of starting a campaign like this or, for that matter, any other food campaign.
He covers such matters as:
Coalition building
Dealing with industry arguments
Framing the issue
Recruiting volunteers
Winning despite limited financial resources
Building power, step by step
Staying with it no matter what happens
These are important lessons for anyone involved in food advocacy.
I can't find anything about this booklet online, which means that if you want one, you must contact him at:
191 Ridgeway Avenue
Oakland, California 94611