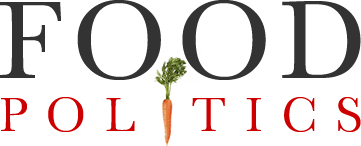 by Marion Nestle
Whatever happened to GMO labeling?
Food Navigator reminds me that GMO labeling has not yet been implemented.
Compliance with the National Bioengineered Food Disclosure Standard (NBFDS) – which requires firms with annual sales of $2.5m to label 'bioengineered' foods, beverages, and supplements – is mandatory from January 1, 2022. So is the industry up to speed? It's a pretty mixed bag, according to labeling experts.
We know that corn, soybeans, and cotton are genetically modified (also canola and sugar beets).
But what about products that you might buy in supermarkets?  Those remain a mystery.
The FDA lists "completed consultations" for genetically modified foods—effectively, approvals—here.  These include Fuji and other apples, potatoes, and squashes, but that doesn't mean they are necessarily in supermarket produce sections.
Confusingly, the USDA has its own list.
It would be nice to have supermarket produce labeled, although the label, as I've written previously, is not as helpful as it might be.
I can't wait to see if stickers like this actually appear on GMO squash, apples, and salmon.  The compliance date is coming soon!