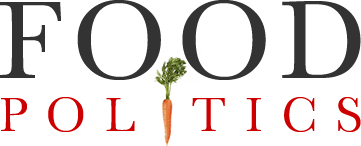 by Marion Nestle
Meat alternatives: cell-based
I'm seeing considerable confusion about the difference between cell-based and plant-based meat alternatives.
Cell-based products are not yet on the market, except in Singapore.  Plant-based products are everywhere, and I will deal with them separately tomorrow.
For an example of the confusion, Phil Howard's op-ed in Civil Eats was first titled Giant Meat and Dairy Companies Are Dominating the Plant-Based Protein Market, but his informative diagram refers to cell-cultured meat and fish alternatives, those that start with cells of animal origin.  Civil Eats, ever careful, fixed the headline so it now reads, Op-Ed: Giant Meat and Dairy Companies Are Dominating the Plant-Based and Cellular Meat Market.  
Today, lets stick to cell-based, beginning with Joe Fassler's thoughtful analysis in The Counter: "Lab-grown meat is supposed to be inevitable. The science tells a different story."
That science tells us:
Manufacturers consistently miss targets for product release.
Production costs are astronomical.
Even if costs can be reduced, production volume can never match real meat.
Producing cell-based meat to scale means keeping it free of contaminants (difficult, if not impossible)
Fetal blood serum, a necessary ingredient, requires animals to be slaughtered.
Cell culture facilities are resource-intensive.
In the meantime, here are some of the latest developments in regulation, image, and celebrity investment.
And here's a summary of the latest research on concentration and power in cell-based agriculure.
Democratizing ownership and participation in the 4th Industrial Revolution: challenges and opportunities in cellular agriculture:  In this paper, we have sought to engage the nascent feld of cellular agriculture in conversation with the political economy of agriculture scholarship, namely, on the inescapable question of whether or not this emerging technology will further concentrate wealth and power in the global food system. Innovation without meaningful inclusion has led to inequality, distrust, environmental crises, and social disintegration, and the world's biggest tech companies are well positioned to continue disrupting and absorbing traditional industries in the coming decades…Critically important and valuable innovation, including agroecological approaches to food production, also continues to come from non-industrial contexts.