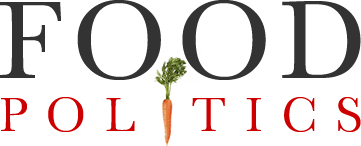 by Marion Nestle
Congress: USDA's Farmers to Families food boxes were mismanaged
Remember those USDA food boxes I complained about so often last year?
Now we have a congressional staff report providing the gory (an understatement) details.
Recall that the ostensible purpose of this program was to collect food from struggling farmers, pack the boxes, and deliver them to food banks for distribution to hungry people.
I thought this was way too cumbersome to work.  Its real purpose had to be to undermine SNAP.
This reports provides the horrendous details: huge expenditures, high profits, failure to deliver as promised.
One distributor was paid $31.5 million; it reported reported profits of 10% to 25%.
Another, paid $16.5 million, charged the government a 50% markup.
Some of the report's conclusions (others dealt with President Trump's use of the boxes for campaign purposes).
USDA Failed to Ensure that Box Contents Met the Needs of Food Insecure Americans.
Documentation Requirements Were Fundamentally Insufficient, Creating Unnecessary Risks of Fraud.
The Program Was Created Without Mechanisms for USDA to Confirm that Box Distributions Targeted People in Need.
The Food Box Program's Structure Incentivized Contractors to Waste Food and Shift Costs to Nonprofits.
USDA Did Not Effectively Review Deliveries and Contractor Performance.
As for helping farmers, some big ones made out well, small ones not so much.  The report offers these gems:
The idea for the Food Box program appears to have originated with a large food industry group. Emails show that the National Chicken Council proposed the idea for "a special purchase of chicken in light of COVID-19," and subsequent distribution of such chicken products to "worthy recipients," to Secretary Perdue's office on April 6, 2020 (p. 30).

contractors in the Food Box Program sometimes [were] paid well above market prices, with farmers and producers sometimes receiving from CRE8AD8 up to ten times the payments they would normally get from grocery stores (p. 36)

USDA apparently did not collect evidence that would allow it to confirm (1) the quantity and specific types of foods ultimately purchased for inclusion in the dairy, protein, or produce food boxes, (2) the amount actually paid by taxpayers to farmers and producers (p. 36).
The report has many recommendations for preventing such problems but why bother.
It would be much cheaper and less wasteful to raise SNAP benefits.