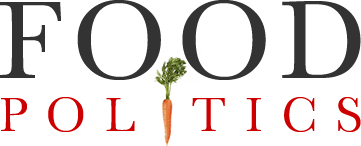 by Marion Nestle
R.I.P. USDA's food boxes
USDA Secretary Tom Vilsack has announced the end of the Farmers to Families food box program.  As reported by The Counter,
The reality is the food box program was set up to respond to Covid. There were a lot of problems with it, a lot of problems," said Secretary of Agriculture Tom Vilsack in a congressional hearing on Wednesday. Over the last year, we've reported on many of those problems—namely high prices, uneven distribution, and lack of oversight.
This program, which has cost at least $5.5 billion to date, was ostensibly supposed to help farmers by buying their produce and provide food to people who needed it by distributing it through food banks and pantries.
I say "ostensibly" because its real purpose was to undermine SNAP.
Food boxes were one of three ways the Trump Administration acted to reduce SNAP enrollments and expenditures (the other two were enforcement of work requirements and invocation of the public charge rule denying residency and citizenship to people who used public benefits, even benefits to which all residents are entitled).
To review the history of this program:   In 2018, Trump's Budget proposed to replace some of SNAP benefits with "Harvest Boxes"—along the lines of those provided by Blue Apron, apparently.   The proposal provided few details.  It was immediately criticized for its lack of information about logistics, composition of the boxes, fresh foods, and choice.
USDA Secretary Sonny Perdue did not give up on the idea, however.  The Coronavirus pandemic gave him the excuse he needed to start the program, now called Farmers to Families.
This seemed reasonable in theory.  Distributors would collect unsold produce from farmers, pack it in boxes, and deliver the boxes to food banks.  Farmers would have income for what they produced; this would help people who lost their jobs during the pandemic.
In practice, small farmers were quickly dropped from the program, Black farmers were excluded, and people who got the boxes got whatever was in them—not always what was supposed to be in them.
Here's what the USDA says the program delivered:
To date USDA contractors have delivered 157,996,398 of fresh produce, milk, dairy and cooked meats to disadvantaged Americans across the country

35.7 million food boxes invoiced in round one (May 15-June 30)

50.8 million food boxes invoiced in round two (July 1-August 31)

15.2 million food boxes invoiced in round two extensions (September 1 – September 18)

18.8 million food boxes invoiced in BOA Contracts (September 22 – October 31)

12.4 million food boxes invoiced in round four (November 1 – December 31)

25.1 million food boxes invoiced in round five (January 19 – April 30)
I say R.I.P.  The Biden Administration's shoring up of SNAP is better policy for food assistance.
Assistance to small farmers is another matter entirely, and one that needs immediate attention.