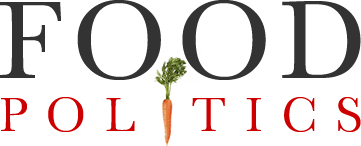 by Marion Nestle
Industry-funded study of the week: avocados again and again
You might not think that avocados need any special sales efforts, but the Haas Avocado marketers are particularly aggressive in funding research to demonstrate the health benefits of this food.
I've written about Haas-funded avocado research previously (most recently, here and here) but here's yet another, this time initiated by a tweet:
I think avocados are fine foods, love them, but wish their marketers would not do this.  Here's the Good News Network headline: "An Avocado a Day May Keep Your Gut Microbes Happy, Study Shows."  As always, the operative word is "may."  The headline would be equally correct saying "may not."
The study: Avocado Consumption Alters Gastrointestinal Bacteria Abundance and Microbial Metabolite Concentrations among Adults with Overweight or Obesity: A Randomized Controlled Trial. Sharon V Thompson, Melisa A Bailey, Andrew M Taylor, Jennifer L Kaczmarek, Annemarie R Mysonhimer, Caitlyn G Edwards, Ginger E Reeser, Nicholas A Burd, Naiman A Khan, Hannah D Holscher.  The Journal of Nutrition, Volume 151, Issue 4, April 2021, Pages 753–762.
Conclusions: "Daily avocado consumption resulted in lower fecal bile acid concentrations, greater fecal fatty acid and SCFAs, and greater relative abundances of bacteria capable of fiber fermentation, providing evidence that this nutrient-dense food affects digestive physiology, as well as the composition and metabolic functions of the intestinal microbiota."
Funding: Support for this research was provided by the Hass Avocado Board and the USDA National Institute of Food and Agriculture, Hatch project 1009249.
Author disclosures: NAB, NAK, and HDH received grant funding from the Hass Avocado Board.
Comment: All fruits and vegetables provide nutritional value and the best way to get the nutrients you need is by eating a variety of them.  If you like avocados, include them in that variety.  If not, don't.
The Haas marketers want you to think that avocados are a superfood.  Alas, there is no such thing.  All fruits and vegetables provide nutritional value.  By that criterion, all fruits and vegetables are superfoods.
Here's an example of how Haas advertises:
Did you know fresh avocados can be part of the MyPlate food guide?

Make half your plate fruits and vegetables.

Avocados are a nutrient-dense fruit with naturally good fats and are easily incorporated into various meals and snacks. One serving (50g or one-third of a medium avocado) has only 80 calories and contributes nearly 20 vitamins, minerals, and phytonutrients along with dietary fiber.
The same could be said for most other fruits and vegetables, although most will be lower in calories.