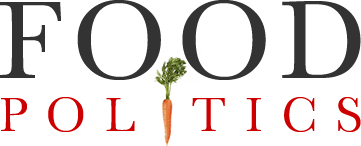 by Marion Nestle
Let's pay attention to nutrition security (as well as food security)
Dariush Mozaffarian (Dean of the Friedman School of Nutrition Science and Policy at Tufts), Sheila Fleischhacker (Georgetown University Law Center), and the chef, José R. Andrés, now of World Central Kitchen, propose to drop the term "food security" and replace it with "nutrition security."
For decades, US policies to address hunger and food insecurity have focused largely on providing sufficient calories or quantities of food. However, effectively addressing the current diet-related challenges in the US will require a shift beyond these concepts to the broader concept of nutrition security. Addressing nutrition security, which can be defined as having consistent access, availability, and affordability of foods and beverages that promote well-being and prevent (and if needed, treat) disease, may be the next needed approach to inform clinical care and public policy.
Their point: it's not enough to provide adequate calories to people who need food; those calories should come from foods that promote health.
…many policies and programs to address food security continue to place a greater emphasis on access to quantity, rather than quality, of food. The prevalence of obesity and diabetes is at an all-time high, with highest risk among individuals who are food insecure. Traditionally marginalized minority groups, as well as people living in rural and lower-income counties, are more likely to experience disparities in nutrition quality, food insecurity, and corresponding diet-related diseases. Clearly, the current approach is not sufficient.
And they recognize the need for "upstream" public policies to promote healthier diets:
An emphasis on nutrition security also could serve as a better guide for public health investments and national research, for which a growing coalition of antihunger, clinical, public health, and business groups recognizes the critical need for a stronger evidence base to accelerate food and nutrition solutions. From a societal standpoint, because poverty and food insecurity are closely associated, efforts must be made to reduce the level of poverty in the US.
This is a short editorial piece titled "Prioritizing Nutrition Security in the US."
I'm for it.