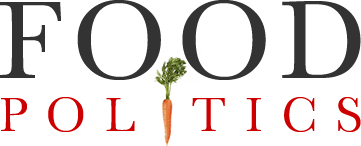 by Marion Nestle
The European Green New Deal: Farm to Fork Strategy
The European Parliament has just ratified the European Commission's Farm-to-Fork Draft Action Plan for a "For a fair, healthy and environmentally-friendly food system."  This was based on previous reports and research.
On 11 December 2019, the European Commission presented 'The European Green Deal', a roadmap for sustainability that envisaged a 'Farm to Fork' strategy on sustainable food, to address priorities and challenges related to every step in the food chain. Many citizens and stakeholders contributed to the Commission's consultation on a sustainable food strategy in February/March 2020. Initially planned for the end of March, the launch of the strategy was delayed due to the outbreak of the coronavirus. This change of plans raised lively debate among stakeholders and policy-makers on whether the strategy should be further delayed or not…On 20 May 2020, the Commission adopted its communication on 'A Farm to Fork Strategy for a fair, healthy and environmentally friendly food system', accompanied by an action plan that put forward 27 legislative and non-legislative measures over a timespan running from 2020 to 2024 (with a review by mid-2023).
The European Commission's Green Deal and Farm to Fork strategy are summarized here.
The European Parliament approved the action plan despite having do deal with a lobbying blitz from meat producers.
This has triggered an unexpectedly hostile lobbying frenzy both inside and outside the EU, particularly among critics who argue the European approach will reduce crop yields and drive up food prices. The U.S. is signing countries up to a rival agricultural plan based on keeping production high, while Europe's national farming ministers are battling to ensure that these new green targets will be kept legally separate from the EU's €270 billion farm subsidies policy.
Another industry body objects to the scapegoating of ultra-processed foods in the action plan.
Comment: As is almost always the case with such plans, there are so many proposals in the just-approved action plan that it is hard to sort out what is important.  There is plenty here to challenge food companies, for example:
Directive to significantly reduce use and risk and dependency on pesticides and enhance Integrated Pest Management
Evaluation and revision of the existing animal welfare legislation, including on animal transport and slaughter of animals
Proposal for a revision of the feed additives Regulation to reduce the environmental impact of livestock farming
Initiative to improve the corporate governance framework, including a requirement for the food industry to integrate sustainability into corporate strategies
Set nutrient profiles to restrict promotion of food high in salt, sugars and/or fat
Proposal for a harmonised mandatory front-of-pack nutrition labelling to enable consumers to make health conscious food choices
Proposal for a sustainable food labelling framework to empower consumers to make sustainable food choices
Review of the EU school scheme legal framework with a view to refocus the scheme on healthy and sustainable food
Could we do something like this, please.