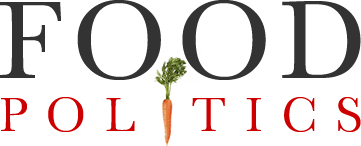 by Marion Nestle
Are law suits against food companies "frivolous?"
I am not a litigious person and much prefer to stay out of the legal system.
But I am a big fan of Bill Marler, who represents victims of food poisonings, not least because his lawsuits against companies with sloppy food safety procedures should encourage them to clean up their processes.
I'm not sure what to think of NPR's account of Spencer Sheehan's 400 or so lawsuits against food companies for misleading labeling.
The one that triggered off the article is on behalf of a woman suing Kellogg over the number of strawberries in Strawberry Pop-Tarts.
Russett's complaint alleges that Strawberry Pop-Tarts contain more pears and apples than strawberries, and that the amount of strawberry they contain "is insufficient not merely to provide the nutrient benefits of strawberries but to provide a strawberry taste." According to the suit, Kellogg uses "vegetable juice for color" and "paprika extract color" to give Strawberry Pop-Tarts their vivid red coloring.
This sent me right to the ingredient list (my emphasis).
Enriched flour (wheat flour, niacin, reduced iron, vitamin B1 [thiamin mononitrate], vitamin B2 [riboflavin], folic acid), corn syrup, high fructose corn syrup, dextrose, soybean and palm oil (with TBHQ for freshness), sugar, bleached wheat flour. Contains 2% or less of wheat starch, salt, dried strawberries, dried pears, dried apples, leavening (baking soda, sodium acid pyrophosphate, monocalcium phosphate), citric acid, gelatin, modified wheat starch, yellow corn flour, caramel color, xanthan gum, cornstarch, turmeric extract color, soy lecithin, red 40, yellow 6, blue 1, color added.
This is a classic
ultra-processed food product.  The first ingredient—these are in order of highest to lowest amounts—is wheat flour, followed by three kinds of sugars, palm oil, more sugar, and more flour—basically a mix of sugar, flour, and palm oil.  After that come ingredients in tiny amounts, among them dried strawberries, number not specified.
At issue:  Does this product deserve to be labeled as strawberry?   Sheehan thinks not.
Some of his other cases:
Keebler and Betty Crocker and others over "fudge" cookies and baking mixes that contained no milkfat.
Frito-Lay alleging it didn't use enough real lime juice in its "hint of lime" Tostitos.
Coors suggesting its pineapple-and-mango-flavored Vizzy Hard Seltzers are sources of Vitamin C "nutritionally-equivalent" to actual pineapples and mangos.
Snack Pack pudding — advertised as "made with real milk" — actually made with fat-free skim milk.
Many cases targeting vanilla products — soda, soy milk, yogurt, ice cream — that use synthetic vanilla or other flavors alongside or in place of the more expensive natural vanilla.
NPR says
Most of Sheehan's suits, including the strawberry Pop-Tart cases, allege damages based on the so-called "price premium theory," which says that products are sold at higher prices than they would have otherwise commanded had the companies marketed them honestly.
Are these cases frivolous or in the public interest?
I'm for anything that gets the makers of ultra-processed foods to advertise them for what they are, not for what they aspire to be.
Hat tip to Lisa Young for sending this one.