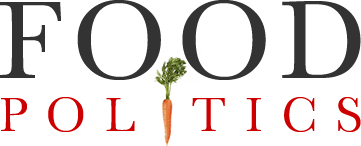 by Marion Nestle
Fruit industry-funded study of the day: I. Strawberries
I am way behind on posting all the industry-funded studies sent to me and collected, so will share a week's worth of fruit studies .  This is to emphasize the obvious point that fruit is good for you, but one is not necessarily better than another–except to its marketers.  Enjoy!
Here's the first: strawberries.
I heard about this from two news releases, and because it was sent to me by Charles Platkin, Executive Director, Center for Food as Medicine  and Distinguished Lecturer at Hunter College, City University of New York.
Wow.  This is exciting.  I had strawberries with my cereal for breakfast this morning.
I could not wait to read the study.
Uh oh.  Not yet published.  But given in a poster session at the American Society for Nutrition meetings in Boston last month.
Title: The Impact of Strawberries on Cognition and Cardiovascular Health of Older Healthy Adults: A Randomized, Crossover, Double-Blind, Placebo-Controlled Clinical Trial .
Objectives: The polyphenolic compounds in strawberries may improve cognitive function and cardiovascular health due to their antioxidant capacities. This study aimed to examine the effects of strawberries on cognitive function and cardiometabolic health in healthy aging adults.
Methods:  This was a randomized, crossover, double-blind, placebo-controlled clinical trial with 35 healthy older adults  given 26 grams of freeze-dried strawberry powder (not strawberries) and a control powder daily for 8 weeks each.
Results:  The strawberry powder group increased processing speed.  The control group increased episodic memory.  : The powder also had other effects: "Strawberry consumption reduced systolic blood pressure…Total antioxidant capacity significantly decreased during the control trial …and significantly increased with strawberry consumption."
Conclusions: This study demonstrates that daily consumption of 26 grams of freeze-dried strawberry powder moderately improves cognitive processing speed, lowers systolic blood pressure, and increases total-antioxidant capacity, potentially promoting cognitive function and improving cardiovascular risk factors.
Funding Sources: This study was funded by California Strawberry Commission.
Comment: Of course it was.  Who else would care about the effects of strawberry powder.  Not that no other fruit powders were tested; I would expect all of them to produce similar effects, whatever those effects might be.  Given that the control group performed better on memory tests, you could interpret the results as not particularly meaningful.  But one characteristic of industry funded studies is to put a positive spin on whatever results occur.  We can argue about the methods when the study is actually published.  In the meantime, we have press releases.
Oh.  And my morning strawberries were somewhat local, red all the way through, and tasted like strawberries.  Do I feel smarter as a result?  Sure, why not.