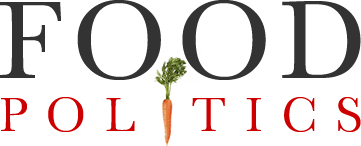 by Marion Nestle
Food prices are going up. Oh, the irony.
FAO says the world food price index is higher than it's been in years, due to reduced harvests, fuel prices, climate change, and Covid-19.
According to the New York Times, the prices of foods in the U.S. are also up—and by 15 percent since early 2020.
Steak, ground beef for hamburger, and turkey are especially costly.

The increases are due to supply chain shortages and higher labor costs and there is little relief in sight. In fact, some economists think prices could rise even more, given the increase in energy prices.
These increases may be hard on consumers, but they are also hard on food banks.
A case of peanut butter that was $13 to $14 before the pandemic now costs $16 to $19…Green beans that used to retail for $9 a case now sell for $14.
BUT, the New York Times also reports:
Despite higher prices, McDonald's, Kraft Heinz and Coca-Cola post solid earnings.

The Coca-Cola Company, McDonald's and Kraft Heinz all reported quarterly earnings on Wednesday that were better than expected, despite continuing challenges with the global supply chain and pandemic restrictions in many parts of the world. The enormous scale of each business, as well as their ability to pass on price increases to consumers, appears to have helped them during a time of uncertainty.
Ironic, no?