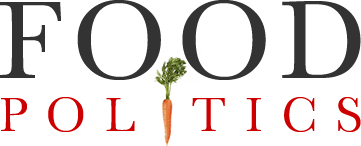 by Marion Nestle
Weekend reading: The Farmer's Lawyer
Sarah Vogel.  The Farmer's Lawyer: The North Dakota Nine and the Fight to Save the Family Farm.  Bloomsbury, 2021.
This book comes with an impressive collection of blurbs from the likes of Willie Nelson, Dan Barber, Ricardo Salvador, and Fred Kirschenmann, and, fittingly, with one from John Grisham on the cover because much of the book reads like something out of one of his thrillers.
The book tells two stories, both amazing.
The first is how Vogel, as a young lawyer, filed a class-action suit representing small farmers who had been treated terribly by a USDA agency, the Farmers Home Administration.  This agency started during the Great Depression as a way to help small farmers survive from year to year through loans and other measures.
But early in the Reagan years, the agency switched to treating farmers harshly, quickly foreclosing on unrepaid loans, garnishing bank funds, and forcing the farmers off their land—in violation of the agency's own rules.  Most of the book is about how Vogel took on these cases, pursued them carefully, and, incredibly, won.
The second story is about the personal cost of this case to Vogel, who worked without pay during the years this litigation was in the works.  Without a salary, she couldn't keep up her own mortgages, lost two houses, and lived hand to mouth.
It's hard to believe anyone would take on a case like this at such risk, but the book is also about her dedication to a cause she deemed too important to abandon.
The book is packed with legal details but so well written and is so compelling that I could hardly put it down.
And the good guys won!
For that alone, the book is inspirational.  And I love the way she ends it.
The North Dakota Nine had small to midde-sized farms.  In the 1980s, their lives were very difficult.  In today's economy, they wouldn't have a prayer.  But farmers like them are exactly the kind of farmers we need today: farmers who will love their land, grow crops as well as communities, plant trees, care for their animals, and leave the earth better than when they found it.  In the big picture, farmers like them can help solve global warming, revitalize the countryside, and provide abundant, healthy food…We can save farmers, protect the environment, solve the hunge crisis, and rebuild rural and urban economies from the ground up…if we act soon.
Yes!
Jerry Hagstrom did a review of this book a couple of weeks ago on his Hagstrom Report.  Here's his list of resources: