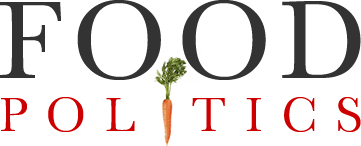 by Marion Nestle
Weekend reading: The politics of kids' food in America
Here's what's happening with kids and food these days.
I.  Amedeo Bettauer's video on kids' menus in restaurants: "Kids Menus Suck"
Amedeo Bettauer, a.k.a. Kid Pundit, is my 12-year-old neighbor in New York.  His opinion:
Kids menus are unhealthy, have no variety, and are teaching bad eating habits to young kids. Here's why.
He would appreciate Likes if you are so inclined.
II.  The Robert Wood Johnson Foundation's State of Childhood Obesity Report 2021
From the press release for this report:
One in six young people nationwide, 16.2 percent of youth ages 10-17, have obesity, according to the newest available data. The data reveal sharp disparities, with the highest obesity rates among youth of color and youth from households with low incomes. ..The report, available at www.stateofchildhoodobesity.org, includes the latest data on childhood obesity rates and offers policy recommendations for prioritizing health and equity.
III.  Center for Science in the Public Interest report on that status of kids' meals in restaurants: "Selling Out Kids' Health: 10 Years of Failure from Restaurants on Kids' Meals"
Overall, 98% of the 9,556 children's meal combinations across the 38 top 50 restaurant chains offering kids' meals in 2018 failed to meet nutrition standards. When each restaurant chain's evaluation was weighted by its number of outlets in the United States to reflect the likelihood of a family visiting any given restaurant, results were still poor, with 71.9% of kids' meals failing to meet nutrition standards. These results are virtually the same as when this data was last collected in 2012, when 71.8% of meals failed to meet nutrition standards (when also weighted by number of outlets per chain).
Among the report's dismal conclusions:
The most commonly offered beverage type was juice, with 76% of restaurants offering 100 percent fruit juice or juice without added sweeteners on the children's menu. However, two-thirds of restaurants had soft drinks on their children's menu, and few (26%) had water as an option.
IV.  Healthy Eating Research has feeding recommendations for kids ages 2 to 8.    The complete report is here.  
Here's an example of its recommendations: