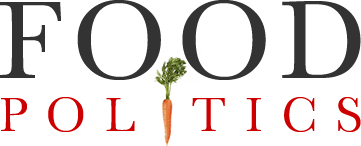 by Marion Nestle
Industry-funded study of the week: methane-reducing supplements for cows
Thanks to Lynn Ripley for this gem.
Who knew that herbal dietary supplements are now marketed for cows, with claims that they improve milk quality and yield and reduce methane emissions at the same time?  Not me, for sure.
The producer of this supplement says feeding a dairy cow one gram a day will produce these benefits. That's not much for a 1500-2000 pound dairy cow, even feeding the gram a day for at least four weeks (which is what the manufacturer says you have to do).
This, to say the least, is hard to believe.
As evidence, the manufacturer, Agolin Ruminant, cites three studies of its supplement.   Want to take a guess as to who funded all three of them?  Bingo!  Agolin Ruminant.
My first question: what is in Agolin Ruminant that is so powerful that only one gram a day will produce measurable benefits?
This question is not easy to answer.
The manufacturer's statement of product information says only:
AGOLIN RUMINANT L is a carefully balanced combination of essential oil compounds in their natural / nature-identical form. All active substances are of high purity and are accepted for use under current European animal feed and human food legislation.
In the meta-analysis summarized below, the authors say:
The main active compounds of this product are food grade and chemically-defined plant extracts including coriander (Coriandrum sativum) seed oil (up to 10%), eugenol (up to 7%), geranyl acetate (up to 7%) and geraniol (up to 6%) along with some preservatives such as fumaric acid.
Those account for 30% of what's in the product.  The other 70%?  A mystery.
This supplement is a feed additive.  Animal feed products do not require the level of ingredient disclosure required for dietary supplements.  The manufacturer says all ingredients are either FDA-approved or Generally Recognized as Safe (GRAS).  All are plant extracts (available from cloves or geraniums, for example).   Great.  I'd like to know what they are.
The manufacturer points to an endorsement from the Carbon Trust for the value of this product for reducing methane emissions.
This opinion is based on academic references, published scientific papers and field reports and joins the conclusions of the independent meta analyses from A. Belanche et al.
Oh dear.  The Carbon Trust did not do its homework.  The article by Belanche et al, is anything but independent.
Here are the key studies attesting to the purported benefits of this supplement for cows, starting with Belanche et al.
I.  A Meta-analysis Describing the Effects of the Essential oils Blend Agolin Ruminant on Performance, Rumen Fermentation and Methane Emissions in Dairy Cows. Alejandro Belanche, Charles J. Newbold, Diego P. Morgavi, Alex Bach, Beatrice Zweifel and David R. Yáñez-Ruiz.  Animals 2020, 10, 620; doi:10.3390/ani10040620
Conclusion: This meta-analysis combining 23 experimental and farm studies across 10 different countries indicated that supplementation of lactating dairy cows with the essential oils blend Agolin Ruminant® (at 1g/d per cow) exerted positive effects on milk production whereas it decreased enteric methane emissions in comparison to un-supplemented cows. These effects mostly appeared after an adaptation period of approximately 4 weeks of treatment and consisted in an increase in fat and protein corrected milk suggesting an improved feed utilization.
Funding: This research received no external funding.
Acknowledgments: This study was supported by Agolin SA (Bière, Switzerland).
Conflicts of Interest: Author B.Z. was employed by the company Agolin SA but had no role in the design, execution, interpretation, or writing of the meta-analysis. The remaining authors declare that the research was conducted in the absence of any commercial or financial relationships that could be construed as a potential conflict of interest.
Comment:  Really?  Even though the authors cite support by Agolin SA?
II.  The Impact of Essential Oil Feed Supplementation on Enteric Gas Emissions and Production Parameters from Dairy Cattle Angelica V. Carrazco, Carlyn B. Peterson, Yongjing Zhao, Yuee Pan , John J. McGlone, Edward J. DePeters and Frank M. Mitloehner.  Sustainability 2020, 12, 10347; doi:10.3390/su122410347
Conclusion: Cows supplemented with Agolin versus the control had less methane intensity (g/period/kg
energy-corrected milk (ECM); p = 0.025).
Funding: This study was funded by Agolin (Agolin SA, Bière, Switzerland) and by Feedworks USA Ltd. (Ohio, USA).
Conflicts of Interest: The sponsor played no role in the execution and interpretation of the data and preparation of the present manuscript. The authors declare no conflict of interest.
III.  Evaluation of Agolin®, an Essential Oil Blend, as a Feed Additive for High Producing Cows.  Peter Williams1, John Clark, Kelly Bean  Open Journal of Animal Sciences, 11, 231-237. https://doi.org/10.4236/ojas.2021.112018
Conclusion: The trial showed that Agolin assisted in improving production parameters of economic importance to dairy producers.
Conflict of Interest: Mr. John Clark and Mr. Peter Williams market Agolin in the United States of America. Both were involved in the design but not the analysis of data or interpretation of results.
Comment
These are industry-funded supplement studies designed to sell a supplement of dubious benefit (my interpretation) to dairy producers to convince the public that they are doing all they can to reduce methane emissions.
The supplement doesn't cost much per dose, but there are lots of dairy cows that have to be given the supplement for at least four weeks.
Without even getting into the details of the measurement difficulties or the overall science, two things are particularly troubling:
The lack of transparency about ingredients
The lack of a convincing mechanism of action
Call me skeptical.  I don't see this supplement as a solution to the methane emission problem caused by ruminants.