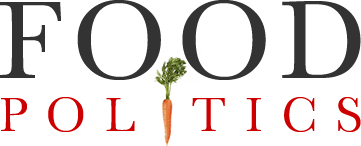 by Marion Nestle
The plight of small dairy farmers: a difficult dilemma
Lorraine Lewandrowski, a dairy farmer and lawyer who works with small dairies in Herkimer County, NY, is a frequent correspondent.  I am always happy to hear from her because I learn a lot from her and respect her knowledge about small dairies and passion for doing something to help them.  With her permission, here is what she wrote me.
Is there really any hope for the region's dairy farmers for the future?  It seems that each day we read of NYC officials condemning us and the food we produce, fresh milk, yogurt, soft cheeses, hard cheeses as "ruining the planet" and "bad for health."  With Mayor Adams having literally  called for a shut down of NY's dairy farms when he was Brooklyn Borough President, and now calls for VEGAN food as "saving the planet," why should many of us even go on?

I am working with farmers who are considering suicide, young farmers who tried to farm, but are now locked into a lifetime of debt to pay off the failed farm, and this now….the steady stream of hate directed at us emanating from the city.  Speakers who talk  only "plant based" while trashing all animal ag without any nuance.

Should I just plain tell the people who struggle to live up here on the millions of acres of Upstate grasslands to forget it. Sell it out and go work somewhere.  Or, if you are working a second job to support the farmland taxes as so many do, just sell the land for sprawl or move to another state as several farmers I know have done.

Is it even worth it to try when I don't see even one urban group standing up for the regional dairy farms?  I'm a lawyer for scores of farmers and hearing the same message from all of them. Why go on?  Personally, I will NEVER work to organize trailers of free milk into NYC again.  Our reward for trying to feed people was a resounding slap in the face from the City and those urban food groups who I had thought supported us upstate.
Lorraine sent the same message to Nevin Cohen, Director of the CUNY Urban Food Policy Institute at the CUNY School of Public Health.  His response to her is also worth reading (also reproduced with permission):
Thanks so much for writing about the challenges facing dairy farmers in NYS. As the descendent of a Catskill dairy farmer – my grandfather owned a small dairy farm in White Lake, NY, and my dad milked cows until he left home for the Army – I empathize with the struggles of today's dairy farmers.

New York's farmers, and other farmers throughout the region, have tried to remain profitable in the face of competition from agribusiness, insufficient transportation, processing, and distribution infrastructure, and federal policies that have essentially subsidized large producers. This is particularly true for dairy, a sector that is facing overproduction nationally, consolidation by large corporations operating massive feedlots, and outdated federal policies like the Federal Milk Marketing Order not providing support for small dairies. I understand the enormous financial and emotional strain this places on farmers, and why so many choose to sell their land.

In my opinion, though, the battle is with big ag and USDA, not vegans. Corporate power and an inadequate federal response, combined with development pressures within the region, are far more to blame for falling profits and the pressure farmers face to sell their land than movements to encourage people to eat more fruits and vegetables. Eric Adams' rhetoric about veganism may appeal to some (though likely an even smaller number since he was "caught" enjoying a fish dinner the other week), but it isn't the most important factor driving the drop in US milk consumption or over-production by the massive CAFOs out west. A recent USDA study, for example, found that the growth in nut and soy "milks" over the past decades has been much smaller than the decrease in milk consumption. The perceived health halo around non-milk beverages may drive some consumers but other factors, including competition from beverage manufacturers and demographic changes, are at play.

Dairy farmers in the Catskill provide enormous benefits to New York City and the region, not the least of which is protecting our unfiltered drinking water supply from development and providing high quality fresh, local food. We clearly need to focus more on policies to make dairy farming profitable and to make the point that regenerative agriculture with livestock and produce is healthy and resilient. I would be interested in your thoughts about Sen. Gillibrand's legislation to require changes to the federal milk marketing order, or whether you have other ideas for policy change. The CUNY Urban Food Policy Institute has monthly forums to address important issues like this. We would be interested in hosting a panel to raise awareness of the obstacles farmers face and identify policies that NYC groups can advocate for.
Lorraine Lewandrowski's response to Nevin Cohen:
In 1939, it was possible to organize upstate dairy farmers to fight the big-3 milk companies that had a stranglehold on the NYC milk market. Today the battle is in Washington and also against multinational companies like Danone, which just last summer terminated its contracts with organic dairy farmers throughout the NY region…Today, Mayor Adams, talks veganism.

In his Daily News Op Ed two years ago, he called for a shut down of our state's dairy farms, citing a farmer in CA who plowed up the pastures to plant almond groves.  He urged us to "go plant based."   Over time, I have come to recoil from the word, "VEGAN."  Vegans have called my office telling my secretary that my throat should be slit.  At the last in-person conference that a group of us farmers attended, vegans defaced and trashed our table, leaving photos of almond milk plastered on our handouts.  It's even acceptable for leadership to simply call for death to our farms.  A new member of the NYS Senate Agriculture Committee, Jabari Brisport, led a rally in the City calling for Death to Dairy.  No one says a word and he gets a coveted spot on the Senate Ag Committee.

Senator Hinchey tried to talk "equity" to Mayor Adams last week concerning the watershed farmers, but I don't think he grasped what she was saying when he said he would direct his departments to look at purchasing more "healthy" food from Upstate.  Is one person the arbiter now?

Lastly, Nevin, as to your question on Senator Gillibrand.  For years, farmers have asked for hearings on the milk price formula, but it never happened.  We are at the point where you can drive for miles up here and see nothing but emptied out farms, a bleak landscape.   There will likely be a new look at the formula. Secretary Vilsack has stated that the farm groups need to come up with a unified proposal.  The small scale farms of the Northeast generally feel that the proposal will be crafted for the larger farms of other regions, as we see now with environmental incentives (digesters for the big guys).  But, we are doing our best to input.
My comment on this exchange:
I too am concerned about the plight of upstate New York dairy farmers (and small dairies in general) and about Danone's abandonment of them.  But when it comes to vegans, I'm with Nevin Cohen: "the battle is with big ag and USDA, not vegans."
Vegan and vegetarian diets are healthy and I'm all for them if that's what people want to do.  Personally, I like and eat dairy foods and think they have a place in healthy diets.  I also think small dairies have a place in healthy environments and that it's the government's role to make sure they survive in the face of Big Dairy and its discontents.
No question, dairying can be done in ways that are better for cows and better for the environment.  That's where we need to focus—on policies that will allow farmers to use better practices and to make a living doing so.
I thank Lorraine and Nevin for raising these issues.  I hope this conversation stimulates serious thinking about how policies can best promote healthful diets and protect the environment.