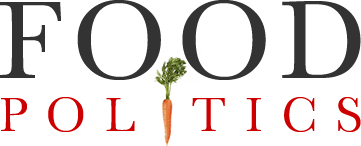 by Marion Nestle
My latest article: Regulating the Food Industry
The American Journal of Public Health has just published a first look—ahead of its print in June—at my most recent article, Regulating the Food Industry: An Aspirational Agenda [if you are not a member of the American Public Health Association, this will be behind a paywall, alas].
It begins:
I end it with policy recommendations for:
Dietary guidelines
Mass media campaigns
Taxes
Warning labels
Marketing restrictions
Portion size restrictions
Farm subsidies
Hence, aspirational.
And, I say,
While we are thinking in aspirational terms, let us not forget root causes. We must also demand policies that link agriculture to public health, keep corporate money out of politics, reduce corporate concentration, and require Wall Street evaluate corporations on the basis of social as well as fiscal responsibility.  In comparison with those challenges, takin gon the food industry should be easy.

Let's get to work.