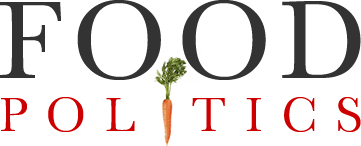 by Marion Nestle
USDA issues new Framework for fixing the food system
---
Last week, the USDA announced its new Framework for Shoring Up the Food Supply Chain and Transforming the Food System to Be Fairer, More Competitive, More Resilient.
The Framework document is long and hard to read.  Here's a summary:
Framework goals:
Building a more resilient food supply chain that provides more and better market options for consumers and producers while reducing carbon pollution
Creating a fairer food system that combats market dominance and helps producers and consumers gain more power in the marketplace by creating new, more and better local market options
Making nutritious food more accessible and affordable for consumers
Emphasizing equity
Framework actions: where the money goes:
Food production
$300 million for an Organic Transition Initiative
$75 million for urban agriculture
Food processing
Food distribution and aggregation
$400 million for regional food business centers
$60 million to leverage commodity purchases through Farm-to-School
$90 million to prevent and reduce food loss and waste
Food markets & Consumers
Civil Eats has an interview with Secretary Vilsack about all this.  Its point:
While it's billed as a "transformation," the framework does not change the foundational structures or practices of the American food system. It does, however, emphasize regionalism, support for organic and urban farming, and nutrition in new ways. That's a significant shift for the agency, which has historically prioritized efficiency over all else.
The White House was also at work last week.  It released an Action Plan on Global Water Security.
Summary: FACT SHEET: Vice President Harris Announces Action Plan on Global Water Security and Highlights the Administration's Work to Build Drought Resilience.
Strategies (Pillars):
Pillar 1: Advancing U.S. leadership in the global effort to achieve universal and equitable access to sustainable, climate-resilient, safe, and effectively managed WASH services without increasing greenhouse gas emissions.
Pillar 2: Promoting sustainable management and protection of water resources and associated ecosystems to support economic growth, build resilience, mitigate the risk of instability or conflict, and increase cooperation.
Pillar 3: Ensuring that multilateral action mobilizes cooperation and promotes water security.
Will any of this do real good?  Specific initiatives will benefit from the increased funding.
Transforming the food system?  Not quite yet.