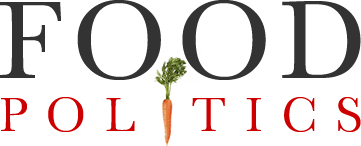 by Marion Nestle
Weekend reading: Raw Deal
Chloe Sorvino.  Raw Deal: Hidden Corruption, Corporate Greed, and the Fight for the Future of Meat.  Atria Books, 2022.  
This is the first analysis I've seen of the meat industry from a business perspective.  Corvino is a business reporter from Forbes and did an amazing research job to do this book, including visiting CAFOs, slaughterhouses (she doesn't say how she talked her way into it), chicken houses, and alternative meat places.  She also talked to a vast number of experts on all sides of the meat issue.  Full disclosure: she interviewed me and quoted me in the book in a couple of places.
I was happy to do a blurb for it.
Raw Deal is Chloe Sorvino's deeply reported, first-hand account of how business imperatives drive the meat industry to mistreat workers, pollute the environment, fix prices, bribe, and manipulate the political process, all in the name of shareholder profits.  She argues convincingly for holding this industry accountable and requiring it and other corporations to engage in social as well as fiduciary responsibility.   Raw Deal is a must read for anyone who cares about where our food comes from.
On meat substitutes
I have yet to meet anyone in this industry who says they do not care about climate change.  In fact, many say they are personally driven by their product's sustainability and environmental potential.  But it's still all to a certain point.  There's a reason Impossible Foods is preparing for a potentially $10 billion public listing, and that neither Impossible nor Beyond Meat is registered as public benefit corporations a move that would legally inhibit the companies from putting profit over their environmental mission.  Half of Impossible's investors come from venture capital firms and the roster even includes a hedge fund, Viking Global Investors. Backers are no doubt ready for an exit, and they want to get Impossible the best deal.  A sustainability halo helps the cause (pp. 169-170).
On support for small local meat producers
Local infrastructure for livestock producers to cook and package products is a key missing link in making local food systems profitable and viable.  Creating lasting impacts wouldn't cost much.  "We have the information and we have the evidence.  FaWhat we don't have are the facilities and shared space where multiple people can leverage that at their business's scale," Mickie told me.  "It's just crazy to me to be in a space where we're trying to meet so many intersecting issues of inequity, and have to prove it one hundred percent, and then in another realm, people are playing with stem cells and getting two hundred million dollars.  We literally feed people and want to do it better )p. 257).
Chloe Sorvino has also published:
An adapted essay in the Los Angeles Times on universal food access
An excerpt in Fast Company about whether good meat exists
***********
For 30% off, go to www.ucpress.edu/9780520384156.  Use code 21W2240 at checkout.