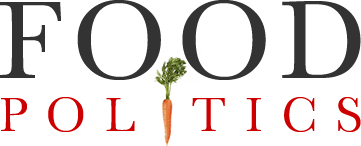 by Marion Nestle
Washington Post calls for breaking up the FDA to get more focus on food
Last week, the Washington Post editorial board gave its Opinion :  For the nation's health, break up the Food and Drug Administration.
The Food and Drug Administration last year failed repeatedly to keep the nation's babies safe from tainted formula. The baby formula fiasco was the latest in a long line of food crises that the agency was slow to catch and handle. But the deaths of babies and the desperation of parents trying to find enough food for their newborns shocked Congress, the public and the world into realizing just how broken the U.S. food-monitoring system had become.
The editorial cited:
Helena Bottemiller Evich's investigation in Politico, which found the FDA's food-safety operations to be so slow as to be "practically in its own league."
A 2017 inspector general report finding the food recall system to be "dangerously sluggish."
Reports from the Government Accountability Office which have "repeatedly called out 'high risk' problems, including an urgent need for a national food-safety strategy and 'high-level sustained leadership.'"
Bottemiller Evich is now doing her own invaluable newsletter, Food Fix (subscribe here, and  follow Food Fix on Twitter and LinkedIn).
In it, she says, "The FDA is not working if…"
it takes a years-long struggle to set even interim, voluntary limits for heavy metals and other neurotoxins in baby food.
its public health mission is to improve nutrition, but diet-related diseases continue to worsen unabated, driving massive human and health care costs.
it takes more than a decade to address agricultural water safety…sparking deadly outbreaks year after year.
it routinely fails to get to the bottom of serious food poisoning incidents – like last summer, when hundreds of people were sickened and more than 130 were hospitalized after eating Daily Harvest frozen crumbles.
it is conducting fewer and fewer food safety inspections, even as Congress has given the agency more resources over the years to do more inspections.
The FDA says it is taking all this seriously and will come up with a plan to address these failings.  I can't wait to see it.
Other comments
********
For 30% off, go to www.ucpress.edu/9780520384156.  Use code 21W2240 at checkout.