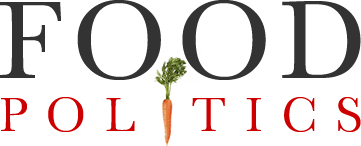 by Marion Nestle
FDA organizational "reform:" clearly not fundamental, so just for show?
Last week, the FDA announced its proposed Redesign of Human Foods Program to Enhance Coordinated Prevention and Response Activities.   You can also watch this announcement on video.
This action comes in the wake of:
The FDA proposal comes with a vision of how the redesign would work.
The complaints and pressures argued for appointing a senior FDA official in charge of all FDA food programs and units.  Instead, the FDA proposes to create a Human Foods Program encompassing some, but not all, FDA food units.
Most prominently missing is the Center for Veterinary Medicine which deals with food for farm animals and pets.  These, however, fully participate in the food system for humans; they eat most of US corn production and loads of byproducts of human food production.  The systems for humans and animals are inextricably linked.
The organizational chart will look like this.  It splits the food units and connects them with dotted lines.  Good luck with that.  That was precisely the problem with the previous organization.
This looks better than the previous organization chart but falls far short of the authority needed to solve the nation's food safety problem.
What's needed?
Unification of food safety under a central authority that unites the functions of USDA and FDA (the Government Accountability Organization has been calling for that for decades).
Short of that, high-level FDA authority over the entire food supply under its jurisdiction.
And much more FDA attention to its public health as well as its safety functions.  It should be taking the lead on actions to prevent diet-influenced chronic diseases.
Hey, I can dream.
In the meantime, let's see how the FDA's new structure goes and who it hires into that key position in charge of human foods.
********
For 30% off, go to www.ucpress.edu/9780520384156.  Use code 21W2240 at checkout.