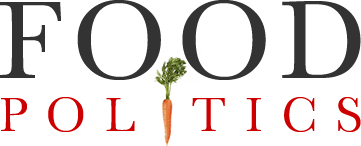 by Marion Nestle
Industry-funded study of the week: Strawberries
It feels like spring (at last!) in New York so I'm thinking about strawberries.
Last September, Lisa Young sent me a copy of an email she had received from a public relations agency.
Good Morning –

Today is World Alzheimer's Day and a new study has found that eating Strawberries may reduce the risk of Alzheimer's Disease and related dementias.

In fact, the compounds that give strawberries their beautiful red color may have several health benefits, such as lowering the risk of heart disease and some cancers and improving blood sugar control. And now researchers have found that one of those compounds, known as pelargonidin, may slow or prevent the development of Alzheimer's Disease by lowering the number of twisted fibers inside the brain that contain a protein called tau. These twisted fibers are a hallmark of Alzheimer's Disease.

The new study, which was supported by the National Institute of Aging and the California Strawberry Commission, was conducted postmortem on the brains of participants of the Rush Memory and Aging Project (MAP). Participants with the highest level of pelargonidin intake prior to their death also had less buildup in the brain of protein fragments called amyloid beta plaques – another hallmark of Alzheimers Disease. Pelargonidin is primarily found in berries. In this study, strawberries were the principal source of pelargonidin….
The study: Agarwal P, Holland TM, James BD, Cherian LJ, Aggarwal NT, Leurgans SE, Bennett DA, Schneider JA. Pelargonidin and Berry Intake Association with Alzheimer's Disease Neuropathology: A Community-Based Study. J Alzheimers Dis. 2022;88(2):653-661. doi: 10.3233/JAD-215600. PMID: 35694918.
Results: "participants in the highest quartile of pelargonidin intake when compared to those in the lowest quartile, had less amyloid-β load (β (SE) = -0.293 (0.14), p = 0.038), and fewer phosphorylated tau tangles…"
Conclusion: "Higher intake of pelargonidin, a bioactive present in strawberries, is associated with less AD neuropathology, primarily phosphorylated tau tangles."
Comment: I love strawberries and grow them in pots on my terrace.  But this study?  It looks at one chemical among many in strawberries and associates it with improved symptoms.  Association, alas, does not indicate causation.  If you give this a moment's thought, could you believe that eating a few strawberries every day would help you prevent Alzheimer's?  I'm all for plant-based diets.  And I'm all for eating strawberries.  But to imply that strawberries alone can control hunger, be good for your heart, especially if they come from California (as the Commission says on its website), seems a bit much.
Are strawberries demonstrably better for Alzheimer's than any other berry or fruit?  The California Strawberry Commission is not interested in asking comparative questions.  It just wants you to buy more strawberries.
*******
For 30% off, go to www.ucpress.edu/9780520384156.  Use code 21W2240 at checkout.