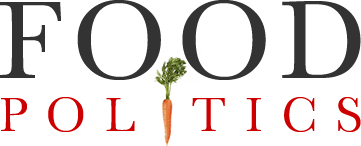 by Marion Nestle
A warning: COVID benefits are ending and their loss will hurt
The USDA's Food and Nutrition Service sent out one of the saddest emailed notices I have ever received, announcing the end of relief measures enacted during the COVID-19 emergency.
The FNS says it is working closely with participants, States, retailers, other federal agencies, and the White House to help with the transition.
This will not be easy.  The COVID-induced increases in benefits did much to reduce family and child poverty as well as food insecurity.
What follows is slightly edited, mainly to reduce repetitive statements.
End of the National COVID-19 Public Health Emergency – Impact on FNS Programs. 

The national public health emergency (PHE) put in place at the start of the COVID-19 pandemic is expected to expire on May 11, 2023. The end of the public health emergency…will trigger changes that impact low-income individuals and families.

SNAP Emergency Allotments: The Consolidated Appropriations Act, 2023, required that pandemic-related SNAP Emergency Allotments (EA) be terminated after the issuance of February 2023 benefits.  See: The Supplemental Nutrition Assistance Program (SNAP).
SNAP ABAWD Time Limit: Beginning July 1, 2023, able-bodied adults without dependents (ABAWDs) participating in SNAP will once again be required to meet the ABAWD work requirements or could risk losing benefits as soon as October 2023.
Temporary Student Exemptions:  Beginning July 1, 2023, the temporary student exemptions – which allowed college students who wouldn't typically be eligible for SNAP to receive benefits during the public health emergency – will begin to be phased out, impacting students as they are due for recertification.
SNAP Administrative Adjustments and Waivers:  FNS is working very closely with States to help them successfully transition back to normal operations, including offering four certification-related waivers specifically designed to support the transition to post-pandemic program operations.
Child Nutrition Programs: FNS offered States and child nutrition program operators extensive flexibilities during COVID to ensure they could continue to serve kids the nutrition they needed. Two of the flexibilities currently offered – CACFP benefits for young adults in shelters and offsite monitoring – are tied to the PHE and, therefore, will be coming to an end. See: Child Nutrition Programs
Pandemic EBT: Since March 2020, Pandemic EBT, also known as P-EBT, has been helping eligible families cover food costs for kids who typically received free and reduced-priced school meals or were eligible through their child care facilities. These benefits will continue through the end of summer 2023 for school children, but will end when the PHE ends on May 11, 2023, for children in child care. The new nationwide Summer EBT program recently passed into law will be available starting in summer 2024, and will help families in need continue to put food on the table during the summer when children aren't receiving meals in schools. See: Pandemic Electronic Benefits Transfer (P-EBT)  
WIC: After the end of the public health emergency, most of the flexibilities FNS provided to WIC participants during the pandemic will continue to be available under a separate authority Congress provided FNS in the American Rescue Plan Act. With this authority, WIC state agencies can continue to offer – and build and improve upon – remote services after the PHE ends. Infant formula waivers, which are not tied to the PHE, will be phased out on a different timeline through the end of June 2023.  See:  Special Supplemental Nutrition Program for Women, Infants, and Children (WIC)
Additional information is available on the FNS website, here.
Comment: I consider this a national tragedy, and a huge mistake.  If COVID-19 proved anything, it was that these measures were highly effective in reducing child poverty in the United States.  Now what.  We go back to higher levels?  As I said, a national tragedy.
Congress will have much to answer for when the results of this shameful decision become to be apparent.