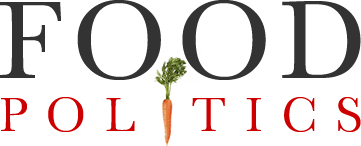 by Marion Nestle
The USDA's proposal for sugary milks in schools—some responses
In February, the USDA proposed rules for sugars in school meals.  These meant:
Flavored milks would be limited to no more than 10 grams of added sugars per 8 fluid ounces for milk served with school lunch or breakfast. For flavored milk sold outside of the meal (as a competitive beverage for middle and high school students), the limit would be 15 grams of added sugars per 12 fluid ounces.
The International Dairy Foods Association says it can and will do this as part of an effort "to preserve flavored milk options as part of the National School Lunch and Breakfast programs. USDA currently has proposed one option to provide only unflavored milk for school-aged children grades K-8."
Among milk options available in schools, low-fat flavored milk is the most-consumed beverage for students regardless of grade, IDFA says. Flavored milk products such as chocolate milk offered in schools today contain an average of just 8.2 grams of added sugar per serving.
The Sugar Association, no surprise, supports continued use of sugary milk in schools—for its own particular reason.
As the 'Healthy School Milk Commitment' moves forward, it is important that alternative sweeteners are not encouraged or deployed as a frontline sugar reduction strategy for flavored milk served in schools.

The use of low- and no- calorie sweeteners in products intended primarily for both children and adults has increased by 300% in recent years, and their presence in food products is easily cloaked from consumers because of FDA's arcane and outdated food labeling requirements.

As the health effects of sugar substitutes on children are not adequately studied, we should proceed cautiously when it comes to initiatives that incentivize the use of these ingredients.

We support flavored milk products, which provide important nutrients and are always a fan-favorite among school students in our nation's schools, and caution against the use of sugar substitutes to meet sugar reduction commitments in the milk consumed by our nation's school children.
That is a new argument (to me, at least).  Here are some old ones (with my comments):
Chocolate milk has lots of nutrients (it also has lots of sugar).
Kids won't drink plain milk (they will, actually)
Kids won't get those nutrients if they don't drink milk (they can get them from other foods).
But New York City has a handout on why plain milk is preferable.  It's worth a look.