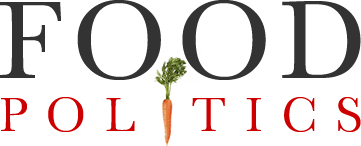 by Marion Nestle
Industry-funded study of the week: Pasta!
Thanks to reader Thijs van Rens for sending this one, and apologies for the delay in getting to it.
This one comes from The Conversation back in January: Stop hating on pasta – it actually has a healthy ratio of carbs, protein and fat.
Its author writes about the benefits of pasta.
The ratio of carbs to protein in pasta is 38g to 7.7g, which equates to roughly a 5:1 ratio, well within the acceptable macronutrient distribution range. Meaning pasta actually has enough protein to balance with the carbohydrates…But pasta…also has micronutrients.

One cup of cooked pasta has about a quarter of our daily recommended intakes of vitamins B1 and B9, half the recommended intake of selenium, and 10% of our iron needs.

The news for pasta gets even better when we eat it as leftovers. When pasta is cooked and cooled, some of the carbohydrates convert to resistant starch. This starch gets its name from being resistant to digestion, so it contributes less energy and is better for blood sugar levels.
Funding: The author reports having "received funding for research or consulting from Mars Foods, Nutrition Research Australia, NHMRC, ARC, AMP Foundation, Kellogg, and the University of Newcastle.
Her article refers to: A systematic review on the relations between pasta consumption and cardio-metabolic risk factors.
Conclusion: Pasta meals have significantly lower postprandial glucose response than bread or potato meals,
Funding: American Heart Association, National Institute of Health, Barilla [the pasta maker!].
Comment
I love pasta, in moderation of course and with something this caloric, moderation is useful.  What's going on here is a defense against rapidly absorbable carbohydrates which quickly convert to sugars.  I don't necessarily disagree with the facts here; it's the industry-funded distraction from calories that troubles.  It's good that the authors disclosed their industry connections.