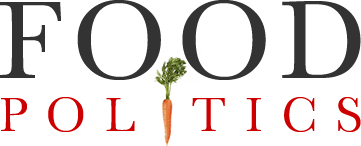 by Marion Nestle
Cell-cultured meat recognized as Kosher (!)
In the Brave New World we now live in, food technology has scored a big win.  Food Navigator has the story: How does a cultivated chicken cell line meet kosher standards?
In a world first, OU Kosher [The kosher certification division of the Orthodox Union] has determined that the chicken cell line of Israeli start-up SuperMeat meets kosher standards.

In another world first, the OU has recognised cultivated meat as kosher and meat.
How is this even possible?
The OU's recognition comes after a series of halachic discussions (concerning Jewish religious laws) and scientific reviews. The latter focused on avian embryogenesis and stem cells, including the observation of the excision of embryonic stem cells from a fertilised chicken egg prior to the appearance of blood spots.

SuperMeat worked closely with the OU and eminent rabbis to identify the vital elements of the sourcing and process to make sure that it holds to the highest standards of Kashrut [dietary laws]….

SuperMeat obtains the stem cells from very early after fertilisation of the egg at a precise time before the emergence of blood spots eliminating the necessity for slaughter and ensuring there is no blood involved in the process….SuperMeat does not use FBS [fetal bovine serum] or any other animal components in its media or process.
In my book about pet food with Malden Nesheim, Feed Your Pet Right, we wrote a chapter on Kosher pet food (one of my favorites).
The kosher laws are based on biblical injunctions against eating two kinds of animals, those that do not ruminate and do not have completely cloven hooves (Leviticus 11:26), and young animals cooked in their mother's milk (Deuteronomy 14:21).   Thus, they forbid such things as eating pork or mixing meat and dairy foods at the same meal.

The Passover celebration requires one additional restriction.   Jews are not allowed to have in the house or to consume any foods containing chametz—wheat, wheat starch, wheat gluten, barley, oats, oat fiber, and other grains—precisely the ingredients in many pet foods.

Given the multiple and not always identifiable sources of ingredients in pet foods, it is difficult to imagine how pet foods can conform to Jewish dietary laws at any time, let alone at Passover.

Can pet foods be kosher?  Is it acceptable to hold Passover seders for dogs and cats, as some do?  And must pet owners who observe Jewish dietary laws feed their animals according to such laws?  The answers are typically Talmudic: yes, and no.
Super Meat is not on the market yet.  But aren't you relieved to know that when it is, the Orthodox Union has given its blessing to cell-cultured meat.
Brave New World indeed.