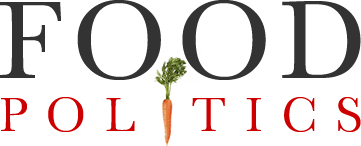 by Marion Nestle
Industry-funded study of the week: a citrus and pomegranate supplement
When I saw this article—Study: Orange and pomegranate extract impacts major marker for healthy ageing—my first thought was "Who paid for this?"  Bingo.
The study: Ahles, S., Cuijpers, I., Hartgens, F. et al. The Effect of a Citrus and Pomegranate Complex on Physical Fitness and Mental Well-Being in Healthy Elderly: A Randomized Placebo-Controlled Trial. J Nutr Health Aging 26, 839–846 (2022). https://doi.org/10.1007/s12603-022-1834-4
Objectives: This study investigates whether a citrus and pomegranate complex (CPC) improves physical fitness, mental well-being, and blood biomarkers for oxidative stress and endothelial function in healthy elderly.
Design: A randomized placebo-controlled cross-over trial.
Participants: The study included 36 healthy elderly aged 60–75 years old.
Intervention and Measurements: Participants received four weeks of CPC supplementation and performed the handgrip strength and senior fitness test. Quality of life (QOL) was assessed and blood samples were analyzed for oxidative stress and endothelial function markers.
Results: After four weeks of CPC supplementation, handgrip strength significantly improved (p=0.019), compared to placebo. Moreover, the thinking, memory, learning, and concentration facets were improved (p=0.042), compared to placebo, and plasma malondialdehyde decreased, compared to placebo (p=0.033). The intervention did not affect senior fitness and the other QOL domains and blood parameters.
Conclusion: Four weeks of daily CPC supplementation significantly improves handgrip strength and self-evaluated measures of psychological function in healthy older adults. Further research should focus on mechanisms associated with physical performance.
Funding: Funding: Authors IC and FT are supported by the Province of Limburg, The Netherlands [grant number HEFI-2]. This research project was supported by BioActor B.V.
Ethics declarations: Conflict of interest: S.A. is an employee of BioActor BV. F.H. is a sports medicine consultant and owner of Sports Medicine Center Maastricht*Parkstad. All other authors declare no conflict of interest. The funders had no role in the design of the study, in the preparation of the manuscript, or in the decision to publish the results.
Comment: This is a classic example of a study nobody but the product maker would ever do.  The statement that the funders had nothing to do with the study design or anything else may or may not be true—there have been too many examples of its not being true to take any such statement seriously without much further discussion.  Even with that assurance, researchers who accept industry funding rarely recognize industry influence—it seems to occur at some unconscious level.