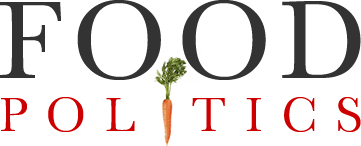 by Marion Nestle
Some good news about school food
A lot of good stuff is going on about school food these days.  Here are five items.
I.  Universal school meals:
Massachusetts has become the 8th state to authorize universal school meals for kids in public schools.
Five of the eight states that have passed universal school meal programs did so this year. Minnesota and New Mexico enacted their policies in March, with Vermont following in June,  Michigan in July and now Massachusetts.  [Others are underway; here's a current list]
II.  The USDA's Healthy School Meals Incentives
III.  Water-in-schools initiatives
A new study just out: "Effectiveness of a School Drinking Water Promotion and Access Program for Overweight Prevention" finds drinking water associated with healthier weights.
IV.  Plant-based school meals
Another study, Plant-Based Trends in California's School Lunches, produced these findings:
68% of districts offer plant-based options daily or weekly, a 54% increase since 2019.
Plant-based entrees increased by 16% (but account for only 8% of entrées offered).
Districts are serving higher quality, whole plant-based entrees.
But then things get complicated:
Processed meat entrees account for 18% of all entrées offered, an increase of 11% since 2019.
More the half (57%) of all offerings on school menus contain cheese, and some of these are highly processed and include meat (e.g., pepperoni pizza).
California has a School Food Best Practices Fund for purchasing high-quality plant-based offerings, along with locally grown, minimally processed and sustainably grown food.
V.   School Nutrition policies and practices
A new study, "School Nutrition Environment and Services: Policies and Practices That Promote Healthy Eating Among K-12 Students," says these interventions work:
Providing school nutrition professionals with professional development
Improving the palatability of school meals
Offering taste tests
Pre-slicing fruit
Providing recess before lunch
Offering incentives for trying healthier options
Providing access to drinking water
Comment:  Yes on universal school meals.  Everyone should be working on states to pass this legislation.  As for what works in schools, these interventions are well within the possible.  Get to work!