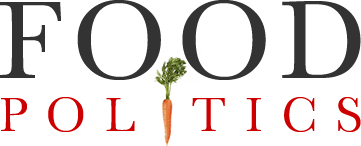 by Marion Nestle
The food industry's role in dietetic eduction
I frequently get sent copies of e-mailed messages sent to members of the Academy of Nutrition and Dietetics, the professional organization for people holding credentials as Registered Dietitian Nutritionists (RDN).
Disclosure: I do not hold this credential; long after I had a doctorate while I was doing a later master's in public health, I fulfilled all of the graduate and clinical requirements but was still short one undergraduate course.
Holders of the RDN must complete 75 credits of continuing education courses every five years to maintain the credential.  Usually, dietitians must pay for courses to meet those credits.
But as my correspondents make clear, food complanies offer courses for credit—at no cost.
It is not at all difficult to fully meet credit requirements through industry-sponsored courses.
Here are some examples:
International STEVIA Council.  Stevia: The Science Beehind the Sweet: a complimentary webinar that will review the most recent scientific evidence supporting the use of stevia to help reduce the risk of chronic diseases and improve quality of life.  https://www.todaysdietitian.com/marketing/webinars/2023/ISC/index.html
This…Free CPEUs: Webinar on Dietary Diversity: Join PepsiCo Health & Nutrition Sciences on Thursday, December 7th for the latest research on incorporating more diverse foods, such as whole grains, legumes and other under-consumed food groups, in dietary patterns. This webinar will also feature a fun culinary demo! Earn 1.25 free CPEUs. Register now.
The Latest on Low- and No-Calorie Sweeteners: What You Need to Know. This activity is accredited by Heartland Food Products Group. 1.0 CPEU FREE
Looking for more free CPE opportunities?  IFIC has 20+ hours of CPEUs available here  [NOTE: IFIC, the International Food Information Council, is a food industry trade association focused on education].
Comment: One can only imagine what those sessions will say.  Do not expect anything critical about the sponsor's products.
But here's an even easier way to pick up a bunch of credits.
Free CPE Opportunities are Now Available for Reading the Dietary Guidelines for Americans!  A Special Treat for Professionals: Free CPE Units Available Now for Reading the Dietary Guidelines for Americans.
You can now earn 2.0 free continuing professional education (CPE) credits for reading the Introduction and Chapter 1 of the Dietary Guidelines for Americans, 2020-2025! Credits are provided by the Commission on Dietetic Registration (CDR), the credentialing body for Registered Dietitians and Dietetic Technicians, Registered.

The self-study module will equip professionals with knowledge of the scientific underpinnings that makes the Dietary Guidelines relevant across all life stages. Participants will also learn science-based advice on what to eat and drink to build a healthy diet that can promote health, help prevent diet-related chronic disease, and meet nutrient needs.

Visit CPE Opportunities | Dietary Guidelines for Americans to start earning credits and stay updated on the release of future modules.
Comment:  Let's hope that dietitians have already read the Dietary Guidelines at some point.  Or maybe it takes free credits to get anyone to slog through its 150 pages.
In any case, AND should not be allowing food companies to "educate" dietitians.
Just to be fair: the society to which I belong, the American Society of Nutrition, is doing this.  It too should not.