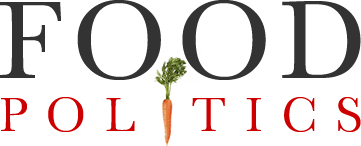 by Marion Nestle
The latest soft drink: Embodi
Sandja, who works for a PR agency, wants me to know about Embodi: "What if you could have all the health and longevity benefits of red wine without the negative effects of alcohol? In fact, what if it came in the form of a delicious and antioxidant-rich fruit drink that you could enjoy daily?
I love the idea that red wine has special health benefits, especially at a really nice dinner.  But here comes Sandbox Industries, a company devoted to dreaming up brilliant new business ideas, one of which is Embodi, a non-alcoholic soft drink fortified with polyphenol antioxidants like the ones in red wine.  The ads say "now you can have all the benefits of red wine without the headache."   But I thought it was the alcohol in wine, beer, and spirits that was most strongly associated with reduction in heart disease risk.
Alas, Sandja did not send the Nutrition Facts labels and they are not on the website so what is in this drink is a mystery.  But that's not its point.  It's a business venture.
Update, September 4: After reading my post, the Embodi PR folks forwarded their well hidden Nutrition Facts label–90 calories per bottle from 22 grams of sugars.  The ingredients?  "Water, organic fruit juice blend (organic white grape, organic red grape, organic apple,  organic pomegranate, and organic pear juices from concentrate), grape pomace extract, and natural flavors."  No wonder they don't put this information on the website.
 Update, September 6: Oops.  The PR folks wrote again and I stand partially corrected.  The Nutrition Facts label is indeed on the website.  You have to click on the bottle label and up it pops.   But the ingredient list part of the label is not (or if it is, I can't find it).  Sandja writes: "There is complete transparency of ingredients and nutrition facts.  The grape pomace extract is what holds the health benefits."  I'd say partially transparent."  And the pomace extract is second-to-last on the ingredient list so there can't be much of it.