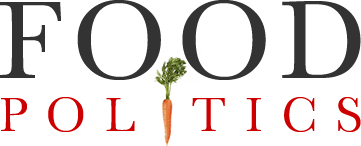 by Marion Nestle
Calorie labeling is catching on: Yum! California!
Yum Brands, which owns KFC, Taco Bell, and Pizza Hut, is going to post calories on the menu boards at all those places.  The company must see the writing on the wall and is just getting a head start on what is sure to come.  Part of the writing comes from California, which has just passed a statewide calorie labeling law.  This particular law is hailed by some advocates as an major step forward and by others as a complete sell-out since it doesn't really go into effect until 2011 (brochures will be required by July 2009).  This, of course, gives state and national Restaurant Associations, which have fiercely opposed such initiatives, plenty of time to litigate.
And then there is the fraud problem?  According to bloggers, class action suits have been filed accusing restaurant chains of lying about the number of calories.  From what I see in New York City, the calories posted are so high that it's hard to believe they could be any higher.