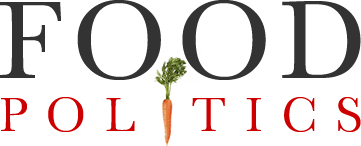 by Marion Nestle
Weekend entertainment: play Global Grocer!
That busy organization, Food and Water Watch, has produced a virtual shopping cart that lets you see where food comes from.  Click on frozen cauliflower and learn that 75% of it is imported, mainly from Mexico. The details come from the group's report, The Poisoned Fruit of American Trade Policy.
While you are on the site, you can play another game: find the factory farms in your state.  And take a look at its other materials.  The site is complicated but one easy way to navigate it is to click on the numbers under the main banner on the home page.  This leads you to pages that list reports and other useful materials. This group is well worth knowing about if you are looking for facts about these issues.