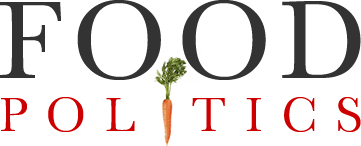 by Marion Nestle
Why food politics matters: the importance of bread and community
Yesterday morning, post-election, I received an email from Steffan Sander, who bakes fabulous hard-crust bread in Tompkins County.  He runs a bread CSA, to which my partner and I happily belong.
I asked his permission to share his message.
Oh! My Dearest Breadfriends,

My heart goes out to each and all of you. Here we have been up till all hours, and then sleeping fitfully. Bakers do that anyway, but last night was different.

We started the bakery a little more than five years ago. Why? Because we were hungry for good bread. Because we wanted to work and play with our dear friends. Because it seemed like the right thing to do at the time. But it was more than that.

We built this bakery because we had a vision–of a place that would nurture our community, that would feed us all honestly and with the fruits of our shared soil and water. We saw the bakery as a place where skilled and hard work would be applied to simple materials, and that our work would then feed us all. We envisioned loaves shaped with care, each embodying our attention and love. We imagined those loaves shared and eaten, given away, or simply (if briefly) appreciated as a source of quietness. Nourishment.

There have been days–too hot or too long or too dry or too wet–when all of that has seemed a dream. But this morning, I feel it more strongly than ever. What I saw last night was half a country intoxicated by the pleasure of finally being allowed to openly express anger, resentment, and hatred. It is that awful pleasure that concerns me. I do not think it will subside anytime soon.

There will be plenty of work to do in the weeks and months to come.

For now, I wanted to tell you this about our bakery: we rededicate ourselves to kindness, to generosity, to difference, to complexity, to respect, and to reason. We rededicate ourselves to hard work, to vision, and most of all, to love.

With great and sorrowful affection,

Stef
This is why the food movement matters and is such a source of hope—and pleasure.
Thanks Stef.