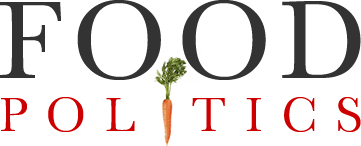 by Marion Nestle
How could E. coli O157:H7 get into cookie dough?
Thanks to Bill Marler for discussing this question on his blog this morning and for suggesting starting with the ingredient list.  As a typical example, here is the ingredient list for Nestlé's Chocolate Chunk cookie dough (others can be found at this site):
INGREDIENTS: BLEACHED ENRICHED FLOUR (WHEAT FLOUR, NIACIN, REDUCED IRON, THIAMIN MONONITRATE, RIBOFLAVIN, FOLIC ACID), SUGAR, NESTLE SEMI-SWEET CHOCOLATE CHUNKS (SEMI-SWEET CHOCOLATE [SUGAR, CHOCOLATE, COCOA BUTTER, MILKFAT, SOY LECITHIN, VANILLIN – AN ARTIFICIAL FLAVOR, NATURAL FLAVOR]), MARGARINE (PALM OIL, WATER, SUNFLOWER OIL, HYDROGENATED COTTONSEED OIL, SALT, VEGETABLE MONO- AND DIGLYCERIDES, SOY LECITHIN, SODIUM BENZOATE, CITRIC ACID, NATURAL AND ARTIFICIAL FLAVOR, BETA CAROTENE COLOR, VITAMIN A PALMITATE ADDED), WATER, CORN SYRUP SOLIDS, MOLASSES, EGGS, EGG YOLKS, BAKING SODA, SALT, CORNSTARCH, SODIUM ALUMINUM PHOSPHATE, VANILLA EXTRACT, VANILLIN – AN ARTIFICIAL FLAVOR

MADE ON EQUIPMENT THAT ALSO PROCESSES PEANUTS/NUTS

CONTAINS: MILK, EGG, SOY, WHEAT INGREDIENTS
For starters, we don't really know yet whether raw cookie dough is the source of this E. coli outbreak.  It could be something else, and Nestlé will have recalled 300,000 cases purely out of precaution.  The most likely source of bacterial contamination is eggs, but eggs typically carry Salmonella, not E. coli O157:H7.   And besides, the eggs in raw cookie dough are undoubtedly pasteurized, which ought to kill any bacteria that happen to be present.
The usual source of this toxic form of E. coli is cow manure.  Cows that carry this bug do not necessarily become ill, but they excrete it. Recall the spinach E. coli outbreak in 2006?  The spinach field was one mile away from a cattle crossing over a stream.  California investigators identified the particular strain of E. coli that caused the problem in cattle, cattle feces, and water at the cattle crossing, but did not found it in the field.
All they could do is speculate. Their leading hypotheses were runoff, a change in the water table, and (my favorite) wild boar.  Unfortunately for this last theory, when they surveyed wild boar for E. coli O157:H7, they found fewer than 0.5% to carry it.  So how E. coli got into the spinach remains a mystery.
As for the cookie dough, I'm guessing that everyone involved is having a busy weekend testing the ingredients, the packing plants, and everything else they can think of.  Let's hope they find the source right away.