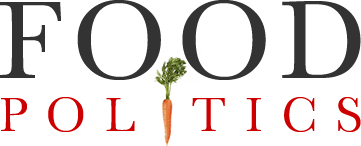 by Marion Nestle
Let's stop using antibiotics in animal agriculture
The Pew Commission on Industrial Farm Animal Production (of which I was a member) recommended as its #1 priority the elimination of antibiotics for promoting growth and other unnecesary purposes in farm animals.  I discussed this report in a previous post.
There is much fuss about this issue this week because the House is holding hearings on the Preservation for Antibiotics for Medical Treatment Act.  If passed, this will phase out the use of seven classes of antibiotics important to human health that are currently allowed to be used as growth promoters in animal agriculture.  The FDA testified in favor of the act.  So did members of the Pew Commission: Robert Martin, Fedele Baucio, and Bill and Nicolette Niman.
So who could possibly be opposed to such a good idea?  How about the American Veterinary Medical Association, for starters, apparently more worried about its members' self interest than about sensible use of antibiotics.
Maybe we'll get lucky and the Congress will do the right thing on this one.
Update July 16: Ralph Logisci, who helped staff the Pew Commission, posted a blog on the movement to ban non-therapeutic antibiotics on Civil Eats.  It goes into considerable depth on the issues and is well worth reading. And the Institute for Agriculture and Trade Policy (IATP) has just produced a report on eliminating the use of non-thereapuetic antibiotics in, of all things, ethanol production.  Who knew?  Turns out they use antibiotics to control fermentation.  Oops.  Not a good idea.  IATP says plenty of alternatives are available and the ethanol industry should adopt them.
July 20 update: in case you haven't seen it, here's the meat industry's July 9 statement in opposition to the bill attempting to ban antibiotic use.