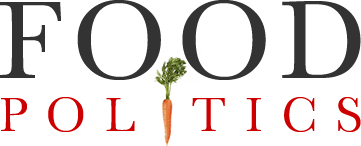 by Marion Nestle
The ongoing Bisphenol A saga: more updates
Ordinarily, concerns about leaching plastics are way down on my list of food safety worries (bacteria are #1), but the evidence against bisphenol A (BPA) continues to pile up.  The latest report says that BPA adversely affects the immunity of the digestive system and causes inflammation.  This, among other considerations, has led the National Institute of Environmental Sciences to invest $30 million to study it.
These and other concerns about its safety hazards have the plastics industry and its users in a tizzy and must also be paralyzing food safety regulators .  The FDA has postponed the release of its report on the safety of BPA.  The report was due out at the end of November but the FDA is not saying when it will be published.  The FDA just says the report is coming soon.  That's not good enough, say critics who say that the delay is raising questions about the FDA's credibility.
While all this is happening, United Nations' agencies are planning a summit on BPS safety to be held in Canada in – don't hold your breath – October 2010.
What to do?  Avoidance seems prudent.  BPA turns up in plastics coded with numbers 7 (the catchall category) and, sometimes, 3.  Can't keep the numbers straight?  Try glass?