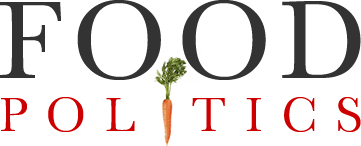 by Marion Nestle
The FDA's BPA "concerns" get a response
The FDA's recently stated concerns about the health effects of bisphenol A did not go unnoticed.
The European Food Safety Authority is keeping a close eye on the FDA action because the two agencies have an agreement to cooperate.   But the U.K.'s Food Standards Agency continues to maintain that BPA is safe at current levels of exposure:
a 3-month-old bottle-fed baby weighing around 6 kg would need to consume more than four times the usual number of bottles of baby formula a day before it would reach the tolerable daily intake set by EFSA in 2006.
It is amusing to read the predictable responses of stakeholders who have a vested interest in demonstrating that BPA is safe – the chemical, plastics, and grocery manufacturers, for example.   In contrast, the Environmental Working Group said that the reversal of the FDA's position is likely to be:
the Waterloo [that ends] nearly a decade of agency collusion with BPA manufacturers… It represents a victory for parents and children, and validation of the hundreds of independent studies linking BPA to numerous and serious health problems.
How harmful is BPA?  I have no idea.  I wish the FDA would release its review of the research.  But even without it there is now enough evidence questioning the safety of BPA to invoke the "precautionary principle:" don't use it until it is proven safe.
Are BPA plastics essential in our food supply?  Clearly not.