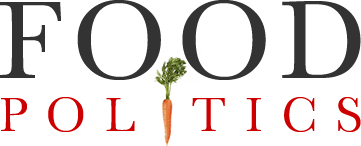 by Marion Nestle
Another Salmonella outbreak: this time Salami (maybe)
As always, I am indebted to Bill Marler for staying on top of the latest food safety scandals.  This one is even more complicated than most.  According to the CDC, 187 people in 39 states have become ill from Salmonella Montevideo (for some reason, I'm unable to get into the CDC site today although the map of the distribution of cases is available and Marler has yesterday's version posted in full on his site).
Here's what I find especially interesting about this one:
Cases have been reported at a relatively steady rate since the beginning of July – more than six months ago.
In January (did they not do any of this earlier?), the CDC conducted a study to compare foods eaten by 39 sick and 39 healthy people.  Among those who were sick, 51% said they were more likely to have eaten Daniele salami than people who were not sick (15 percent).  In addition, 11 other people said they bought Daniele salami before they became ill.
These kinds of studies are really hard to do.  As William Keene, senior Oregon epidemiologist explained (quoted on the Marler blog), people "were questioned left and right and they were asked about salami and very few of them said yes….Investigators re-interviewed people who were thought to be part of the outbreak, such as members of a hunting party from the South who had been to the Great Plains and responded to new questions with answers such as, "Now that you mention it, we did stop at a Wal-Mart in South Dakota and buy some salami."
Daniele issued the recall because a private testing lab identified Salmonella in one of its salami products.  But that Salmonella strain was not Montevideo.  Could multiple strains be involved?
Daniele did the recall anyway and mentioned that pepper might be the source of the Salmonella.  Was it?  If so, this is by no means the first time that Salmonella has been associated with pepper, as Marler explains.
The public relations firm that has attempted damage control on previous food outbreaks is doing this one too.
Is this salami or pepper, Daniele salami or not?  So far, we still are dealing with guilt by association, but public relations?  How about just producing safe food in the first place?
And in more food safety news, let's all congratulate President Obama for finally appointing someone to lead food safety efforts in USDA – Dr. Elizabeth Hagen.  Dr. Hagen has been at USDA and knows how that organization works.  Let's hope she starts making waves today!
Congress: now it's your turn.  Pass that food safety bill!