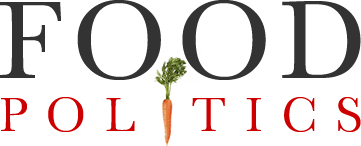 by Marion Nestle
Beverage Association's PR spin on bad news for sodas in schools
Just in time for the Albany conference on soda taxes (see previous post), the Beverage Association has issued a report on the great progress it is making in reducing calories from sodas sold in schools.
In fact, the Beverage Association is doing a terrific job on reducing soft drink consumption.  Sales of sodas are down by impressive percentages, but so are sales of all drinks sold in school vending machines, as illustrated by this chart from today's Wall Street Journal.
This is good news.  The next steps to improve school food?  Here are a few of my favorites:
Get the vending machines out of schools altogether, those for snacks as well as sodas.
Get rid of "competitive" foods, those sold in competition with school meals.
Put some restrictions on the frequency and quantity of foods brought in for birthdays and other celebrations.
Institute universal school meals.
If kids don't buy drinks from vending machines, the schools don't need them, right?
Update March 9.  Thanks to Coca-Cola for sending a copy of the press release and the final progress report summary.