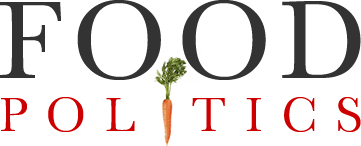 by Marion Nestle
The NYC school bake sale fiasco
I've had several requests to comment on the new New York City Board of Education restrictions on what foods parents can bring to school bake sales.  Home-baked goods are forbidden.  Instead, parents may bring fruits and vegetables (fine) or any of 27 commercial packaged snack foods (oops).
This ruling is an example of nutritionism in action – foods reduced to their content of a few selected nutrients.  The Board must think that if a food doesn't have a Nutrition Facts label, it isn't worth eating or its nutritional quality can't be trusted.
This ruling is a perfect example of why we need standards for schools based on food, not nutrients.
Laura Shapiro explains the history of all this beautifully in an interview with the New York Times.
NPR also had plenty to say about parent protests.
If it were up to me, junk food would be out of schools altogether and bake sales and the like restricted to special occasions.  But if forced to choose between packaged snacks and home-baked cupcakes, I'd throw out the commercial snacks, and put some restrictions on the size and frequency of items at bake sales, but otherwise choose home-cooking every time.