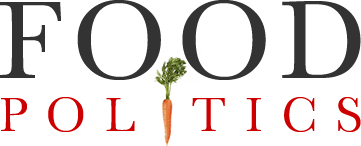 by Marion Nestle
Food safety progress: some good news, some not
On April 16, the CDC published its annual report on foodborne illnesses in a ten-state sample.  CDC writes in passive voice and it's a struggle to get to the good news:
In comparison with the first 3 years of surveillance (1996–1998), sustained declines in the reported incidence of infections caused by Campylobacter, Listeria, Salmonella, Shiga toxin-producing Escherichia coli (STEC) O157, Shigella, and Yersinia were observed…Compared with the preceding 3 years (2006–2008), significant decreases in the reported incidence of Shigella and STEC O157 infections were observed.
Some consumer groups urge caution in interpreting the drop in toxic E. coli cases, as previous drops have rebounded.
And then there's the not-so-good news: "The incidence of Vibrio infection continued to increase."
Vibrio infections reflect the oyster problem I talked about last fall.  The gulf oyster industry is still fighting the FDA over methods to decrease these preventable infections.  Perhaps this bad news will encourage the FDA to get busy and regulate oyster safety.
The Inspector General of the Department of Health and Human Services is worried about FDA's inspection ability:
On average, FDA inspects less than a quarter of food facilities each year, and the number of facilities inspected has declined over time.
Fifty-six percent of food facilities have gone 5 or more years without an FDA inspection.
The number of facilities that received OAI [Official Action Indicated] classifications has declined over time.  In addition, nearly three-quarters of the facilities that received OAI classifications in FY 2008 had a history of violations. Two percent of facilities that received OAI classifications refused to grant FDA officials access to their records.
FDA took regulatory action against 46 percent of the facilities with initial OAI classifications; for the remainder, FDA either lowered the classification or took no regulatory action.
For 36 percent of the facilities with OAI classifications in FY 2007, FDA took no additional steps to ensure that the violations were corrected.
This is also bad news.  Worse, is congressional inaction over food safety.  The House passed its food safety bill–one designed to fix the FDA–last August.  The Senate has yet to deal with its version.  Can food safety wait?  No, it must not.