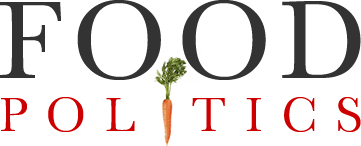 by Marion Nestle
Mrs. Obama's anti-obesity campaign
Today is Easter Sunday and my monthly San Francisco Chronicle column appears today.  It deals with Michelle Obama's campaign against childhood obesity.  Enjoy!
Kudos for first lady's anti-obesity campaign
Nutrition and public policy expert Marion Nestle answers readers' questions in this monthly column written exclusively for The Chronicle. E-mail your questions to food@sfchronicle.com, with "Marion Nestle" in the subject line.
Q: What do you think of Mrs. Obama's "Let's Move" campaign against childhood obesity? It doesn't say much about junk food or food marketing. Isn't this a cop-out?
A: Skeptic that I usually am, I have nothing but applause for Michelle Obama's decision to adopt childhood obesity as the first lady's official cause. Lady Bird Johnson's legacy is the flowers that bloom throughout the nation's capital. Obama must want hers to be the flowering of better health for our nation's children.
Yes, Obama is sensitive to political realities. She calls her campaign "Let's Move" rather than "Let's Eat Less Junk Food." But its goals are crystal clear. Her campaign aims to improve food in schools and eliminate "food desert" areas without access to healthier foods.
The White House organic garden is an integral part of this effort. It is no accident that Will Allen, the charismatic head of Growing Power, the group that runs urban farms in Milwaukee and Chicago, spoke at the campaign news conference. Good food, he said, is about social justice. Every child should have access to good food.
This campaign reveals real leadership on a desperately important issue. Obama brings diverse groups to this table. She presses government agencies to take action. She exacts promises from Congress to make it easier for kids to eat low-cost meals in schools. She got her husband to create a task force to tackle ways to prevent childhood obesity.
In addition, she is asking professional and business groups to do more to help kids eat better. I'm particularly impressed by her speech to the Grocery Manufacturers Association, which represents the makers of processed foods and beverages.
With masterful tact, Obama nonetheless insisted that the association "entirely rethink the products that you're offering, the information that you provide about these products, and how you market those products to our children." We parents, she said, want assurance that food companies will stop "teaching kids that it's good to have salty, sugary food and snacks every day."
Yes, she avoids saying anything about soda taxes or other measures that might make it easier for kids and parents to make better food choices, but she is bringing childhood obesity to public attention in a fresh, new way.
Consider what her campaign is up against. Preventing obesity means eating less, often a lot less, of processed fast-food, snacks and sodas. This puts the makers of such foods in an impossible bind. Eating less is not good for business.
Short of going out of business, what can such companies do to help? They can reformulate their products to make them a little healthier. They can stop marketing their products directly to children. But this, too, is bad for business – unless it can be used for public relations.
Indeed, food and beverage companies are falling all over themselves – with much fanfare – to reformulate and to promise to restrict marketing that targets kids.
PepsiCo, the maker of soft drinks and Frito-Lay snacks, says it will stop pushing sales of full-sugar soft drinks to primary and secondary schools worldwide by 2012. The new policy is voluntary, encourages rather than mandates, and assures school districts in the United States and abroad that the company will not tell them what to supply.
It keeps vending machines in schools and allows for continued sales of branded sugary drinks such as Gatorade, juice drinks, and sweetened milk.
Kraft Foods says it will reduce the sodium in its foods by 10 percent, also by 2012. This sounds good, but has a long way to go. Kraft's Macaroni & Cheese (the SpongeBob package) contains 580 mg sodium per serving and two servings per package. A 10 percent reduction takes 1,160 mg sodium down to 1,050 mg. Salt is 40 percent sodium, so this brings salt down to 2.6 grams – about half a day's upper limit for adults.
Still, these are steps in the right direction. Are they meaningful? You decide.
In the meantime, the Center for Responsive Politics, a nonprofit research group focused on the effect of money on public policy, says soda companies have increased by ten-fold the amount of money they spend on lobbying – no doubt to counter the threat of soda taxes.
What are we to make of these responses? They raise my favorite philosophical question: "Is a slightly better-for-you processed food necessarily a good choice?"
What would be better for preventing childhood obesity would be to make eating real foods the default. These, as defined by Oakland's Prevention Institute, are relatively unprocessed foods that contain nothing artificial. And they are produced in ways that are good for farmworkers, farm animals and the environment, and are available and affordable to all.
Getting to that point requires policy as well as voluntary actions. Perhaps I'm reading too much into Obama's campaign, but that's how I interpret it. I'm supporting it. How about you?