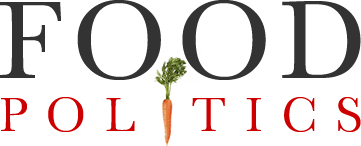 by Marion Nestle
The Slaughterhouse Problem: is a resolution in sight?
After years of hearing sad tales about the slaughterhouse problem, it looks like many people are trying to get it resolved.  A fix no longer seems impossible.
The slaughterhouse problem is what small, local meat producers have to contend with when their animals are ready to be killed. The USDA licenses so few slaughterhouses, and the rules for establishing them are so onerous, that humanely raised (if that is the correct term) animals have to be trucked hundreds of miles to considerably less humane commercial facilities to be killed (see added note below).  Furthermore, appointments for slaughter must be made many months or years in advance — whether the animals are ready or not.
Perhaps because the USDA has just announced guidelines for mobile slaughter units, lots of people are writing about this problem. Here, for example, is what I ran across just last week:
If enough people complain about this problem, the USDA might get moving on it.  The guidelines are a good first step.
The guidelines, by the way, are up for public comment.  For comments (or attached files with lengthier comments), go to the Federal eRulemaking Portal.   Be sure to include the agency's name, USDA, and docket number FSIS-2010-0004.  Comments must be filed within 60 days.
Added note: the USDA has a new study of "Slaughter availability to small livestock and poultry producers — maps" that tells the story at a glance.  Many large regions of the country have limited or no access to slaughterhouses small enough to handle animals from small producers.