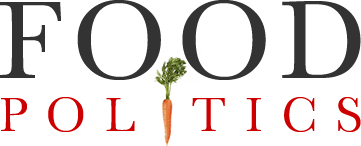 by Marion Nestle
International food politics: Carving up the UK's Food Standards Agency
FoodProductionDaily.com has done an analysis of who does what under the new UK scheme for dividing food responsibilities and taking power away from the pesky Food Standards Agency, which had the nerve to actually try to regulate the food industry.
At a time when it is increasingly obvious that food regulations would be better served if under the authority of a single food agency, the UK is doing just the opposite.
Here in America, we have enough problems with food regulations divided between FDA and USDA.  The UK has done us one better.    It now has three agencies in charge.  See if you can make sense of any of these new responsibilities:
The Food Standards Agency

Scientific advice on the food safety aspects of date marking
Assessment and labeling of ingredients/foods with food safety implications (e.g. allergens, glycols, high caffeine, high glycyrrhizinic acid)
Food safety aspects of organic food and of foods controlled by compositional standards
Treatments and conditions of use with food safety implications (e.g. quick frozen foods, raw drinking milk and pasteurization, food contact materials)
GM and novel foods (including use of nanotechnology)
EU General Food Law regulation, including traceability of food
Codex Committees on Food Hygiene, Methods of Analysis and Sampling, Food Additives, Contaminants in Foods
Department for Environment, Food and Rural Affairs (a mix of our FDA, USDA, and EPA)

General lead on food labeling legislation and relevant EU negotiations
Lead on the EU Food Information proposal
Country of origin labeling
Food composition standards and labeling such as fruit juice and fruit nectars, jams and bottled water
Technical advice on compositional standards for food without specific legislation, such as soft drinks and cereal products
Fish labeling
Use of marketing terms e.g. natural, fresh, clear labeling, vegan and vegetarian labeling
Food authenticity program
Codex Committees for: Food Labeling, Processed Fruits and Vegetables, Fresh Fruits and Vegetables, Fats and Oils, Fish and Fishery Products, Europe, General Principles
Lead on Codex Alimentarius Commission, General Principles and Coordinating Committee for Europe
Department of Health
Nutrition related aspects of the EU food information regulation
Front of pack labeling
Food for particular nutritional uses (PARNUTS)
Infant formula and follow on formula
Health and nutrition claims
Food supplements
Calorie information in catering establishments
Codex Committee on Nutrition and Foods for Special Dietary Uses
This sounds to me like an ironclad guarantee that nothing will ever get accomplished.  But that, of course, was very point of taking so many responsibilities away from the Food Standards Agency.  That agency, alas, was actually trying to regulate the food industry, something no conservative government is willing to tolerate.
Let's hope our FDA pays no attention.