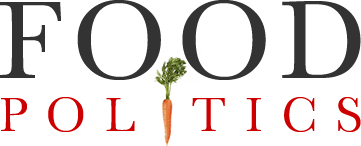 by Marion Nestle
New York City: the state of school food
Nick Freudenberg, Amy Kwan of the City University of New York School of Public Health at Hunter College and Kristen Mancinelli of City Harvest have produced a report on the state of school food in New York City: Recipes for Health: Improving School Food in New York City.
The report is about the "vibrant and fast-growing school food movement in NYC." It:
Describes the various programs and activities that are transforming the food environment in city schools.
Explains how the school food system works in New York City.
Highlights recent improvements made by the Department of Education and other agencies to address food quality and nutrition concerns.
Describes the continuing challenges the city faces in providing ideal school meals.
Explains how to take action to support systemic improvements to the school food environment.
If this can be done in New York City, it can be done anywhere.  Get to work!