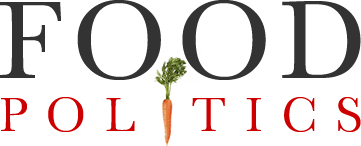 by Marion Nestle
Reprint from Civil Eats: Andy Fisher on Food Stamps vs. sodas
The most thoughtful comments I've seen on the proposal to block food stamp recipients from buying sodas come from Andy Fisher's post on Civil Eats.
Mr. Fisher is currently a Kellogg Food and Society Fellow with the Institute for Agriculture and Trade Policy in Minneapolis.  He is the Co-Founder/Executive Director of the Community Food Security Coalition (CFSC).
I have added the red-highlighted emphases:
October 8th, 2010  By Andy Fisher

On Thursday, New York City Mayor Michael Bloomberg announced that he had asked the US Department of Agriculture to allow the city to exempt soda from the permitted list of items its 1.7 million food stamp recipients can purchase with their benefits. This ban would last for two years, enough time to assess its effects and determine whether the ban should be continued on a permanent basis. New York City food stamp recipients spend an estimated $75 million to $135 million of their $2.7 billion in food stamps annually on soda, according to AP.

Anti-hunger and public health advocates at odds over proposal

Public health advocates contend the obesity epidemic is costing the US hundreds of billions of dollars per year in increased health care costs, and sugar sweetened drinks are a major factor.   They correctly note that low income persons tend to have higher rates of diet related diseases than the general public: poor New Yorkers have twice the rate of adult-onset diabetes than compared to the wealthiest. Mayor Bloomberg noted, "Sugar-sweetened drinks are not worth the cost to our health, and government shouldn't be promoting or subsidizing them."

On the other hand, anti-hunger advocates argue that food stamp recipients should have the same freedom of choice at the supermarket checkout counter as any middle class person. Exercising that freedom is a matter of personal dignity that the poor all too often are not afforded. Restricting soda is the first step in a slippery slope toward further demeaning regulations on what food stamp recipients can buy.  They correctly point out that poor people often can't afford produce, as nutritious foods tend to be more expensive per calorie than less healthy food.

The anti-hunger community is correct that historically, as a nation, we have treated the poor paternalistically. American social, educational and health policy is littered with countless examples of this failed approach. Regulating what food stamp recipients can and can't buy with their benefits puts forth the message that they are not capable of making good decisions, and the government needs to set forth boundaries to protect them from their own poor choices. To the contrary, some studies have shown that food stamp recipients actually buy more nutritious food per dollar than non-food stamp recipients.

Anti-hunger advocates are also right that poor people typically can't afford nutritious foods. Highly processed foods, such as ramen, fill up a belly more cheaply than broccoli and whole wheat pasta.  In our food system, high calorie foods with low nutritional value are cheaper than nutrient dense foods. For example, a 12 pack of 12 ounce cans of Coke (144 oz) at Kroger's costs $2.79 on sale, while a half gallon (64 ounces) of Minute Maid orange juice (also a Coca Cola Inc. product) is $2.49. The bad choice is the cheap choice.

On the other hand, public health groups are dead-on accurate that it is irresponsible public policy to be subsidizing with tax dollars the purchase of unhealthy products that will burden society with increased health care costs in the future.  As a nation, we're subsidizing soda companies $4 billion annually through the food stamp program. In return, decades later, the public will be stiffed with the hospital bill for billions of dollars more for extra health care costs from these poor dietary choices.

Thorny issue raises questions


Why are anti-hunger advocates in the absurdly precarious position of protecting the right of poor people to drink soda? Do I have a right as an American to poison myself with "soft" drinks that can dissolve the rust off a car? Does it matter whether I use my own money or tax dollars?  Should freedom of choice apply to products of marginal utility if not harmful products?

Why does it cost Coca-Cola more to produce a half-gallon of orange juice than a half gallon of Coke? How do we reverse this situation, such that healthful products are more affordable and unhealthy products are more costly?

Are food stamps an income support program- or as the program's new name indicates, a Supplemental Nutrition Assistance Program? If it is a "supplemental nutrition" program, then shouldn't USDA define which products are nutritious based on Institute of Medicine standards, and limit purchases to these products? USDA does this with the Women Infants and Children (WIC) program, which is widely touted for saving billions in health care costs.

If food stamps are an income support program, and anti-hunger advocates want to maximize poor people's freedom of choice, then why shouldn't food stamps be distributed as cash rather than as a debit card good for food purchases? Doesn't receiving cash maximize a person's dignity as it bestows trust upon that person that he or she will make the right choice with their money?  Would food stamps not then become a welfare program, and be subject to the negative public perception of welfare?

The real story behind food stamps is that it is neither a nutrition program nor an income support program. It is a massive subsidy for the food retailers, grocery manufacturers, and industrial growers. That is why commodity groups, the Grocery Manufacturers of America and the Food Marketing Institute all line up behind the food stamp program every five years when the Farm Bill is being debated. They know the extra buying power food stamps provides to low income Americans will end up in their pockets.

In their noble effort to reduce human suffering and to improve the livelihood of the 41 million Americans on food stamps, anti-hunger advocates are caught in an ever-tightening bind. They frame food stamps as a nutrition program, because a nutrition program has more public support and more powerful allies in Congress than a welfare or income support program. Yet, burgeoning rates of chronic diseases and the growing presence of the public health community as a player in federal food and farm policy, translates into increased accountability for the nutritional impact of the food stamp program.

What boat are both camps missing?

There is one very important point neither the anti-hunger nor the public health advocates are making. Our tax dollars, especially the $80-90 billion spent annually on federal food programs, are a powerful force in shaping the food system. Food stamps, like school meals and WIC, should be the cornerstone of a food system that is grounded in principles of environmental sustainability, social justice, and health. Directed toward the small farm economy, community-oriented retailers, brokers, and processors, even a modest percentage of these funds could ignite a transformation of our food system.

Consider this. While nationally food stamp recipients are spending $4 BILLION per year on soda, in 2009, only $4 MILLION of food stamps were redeemed at farmers markets. This difference is shaped by the fact that USDA has not equipped farmers markets with free debit card terminals (which are needed to accept food stamp benefits), and prohibited federal nutrition education programs to promote farmers markets. Does this mean the Department of Agriculture values soft drinks one thousand times more than farmers markets?

Mayor Bloomberg has proposed only half the solution. USDA should grant him the waiver he requests if and only if New York City agrees to redirect the $75-$135 million that would have otherwise been spent on soda to programs that encourage food stamp recipients to purchase locally grown foods at farmers markets, community supported agriculture farms, and other community-oriented venues.